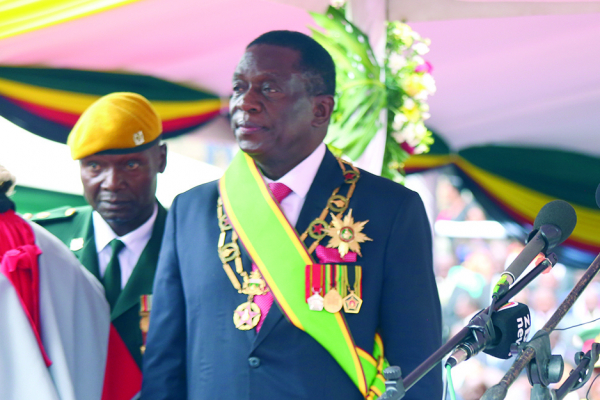 THE Johanne Marange Apostolic Church yesterday "prophesied" a President Emmerson Mnangagwa victory in the forthcoming general elections.
BY KENNETH NYANGANI
Addressing thousands of party supporters at St Noah College in Mafararikwa in Marange, Mnangagwa said he has already been invited to officially open a state-of-the-art stadium in two years' in his capacity as the winning candidate in the elections.
"You said I will come here (Marange) in two years to commission a stadium. If you see a church saying that, this means that the spirit has said in two years I will be around. I don't know those who have not been prophesied (sic),'' he said.
"I want to thank you for inviting me, but I am not a new person here. The stadium will be a first of its kind in a rural set-up. This thing has not been happening, but it's being done with a spiritual person.''
Mnangagwa attended a ground-breaking ceremony for the construction of the stadium.
He said that it was all over for Zanu PF members, who were defeated in the recent primary elections.
"We did our primary elections and some were not happy. This is democracy,'' he said.
"To those who won; it's not you, but the win is for Zanu PF and to those who lost, lets be united and campaign for the party.''
Mnangagwa donated truckloads of rice and maize to feed workers constructing the stadium
He also donated 200 computers and $50 000 and offered to construct four boreholes for St Noah College.