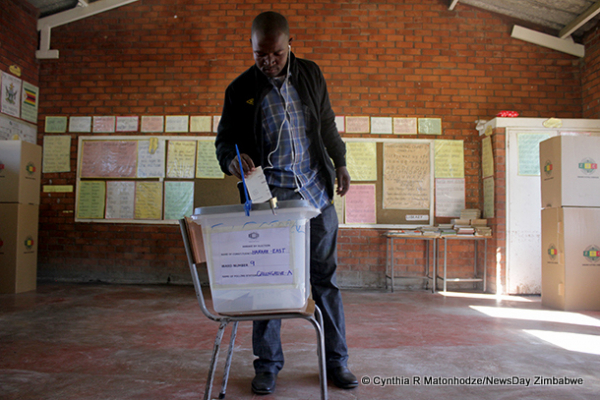 THE newly-formed Zimbabwe African National Union (Zanu), which claims to be a breakaway faction of the ruling Zanu PF party has unveiled its leader Chawaona Wilbroad Kanoti and its election manifesto as it gears to contest the upcoming general elections.
By NQOBANI NDLOVU
Zanu secretary-general Chamunorwa Damiso, in a statement yesterday, extended an olive branch to other disgruntled former Zanu PF supporters, among them war veterans to join his party and be considered as parliamentary and council candidates.
Damiso said they broke away from Zanu PF in January this year in protest over alleged deliberate and systematic breach of the party's founding principles and ethos of the liberation struggle.
"Zanu has now re-organised and is contesting in the 2018 national elections motivated by the desire to restore the povho's (majority) deliberately and systematically lost ideals, goals, desires, and principles that must have been fulfilled from Independence Day on the 18 April 1980, but were sold-out by Zanu PF," he said.
"We are campaigning on the premise that quicker solutions to Zimbabwe's mess after this Zanu PF mafia rule do not require politicians in our governance, but technocrats and administrators.
"What better way to achieve this than to involve all the diverse and particular national civic sectorial groups that make up our society?"
Damiso appealed to technocrats, war veterans, lawyers, farmers and clergy among other interest groups to stand as Zanu parliamentary candidates throughout the country.
"We are, instead, calling upon all national sectorial interest groups and associations to field their parliamentary representatives through a strategic relationship with Zanu that ends on vote counting day. Thereafter all the respective sectors' representatives shall stand in Parliament to articulate their respective national sector interests and concerns," he said.
"With the diversity of inputs and expertise that will come from the diverse interests groups, there is no doubt Zimbabwe is poised for greater times of social and economic prosperity. Our Cabinet too shall be selected from the same 'expertise' of sectorial representatives in the new Parliament and Senate."
Party leader Kanoti, a former State spy, is a lawyer in private practice and also chairperson of the Zimbabwe Lawyers for Electoral Justice, a trust currently working to ensure all victims of the 2000-2013 political violence were compensated whilst the perpetrators were tried in courts of law.
Zanu PF, which is facing a possible revolt from hundreds of aspiring candidates who lost in the just-ended party primary elections, has dismissed Zanu as a bogus organisation seeking to ride on the legacy of nationalists such as former President Robert Mugabe and the late Vice-President Joshua