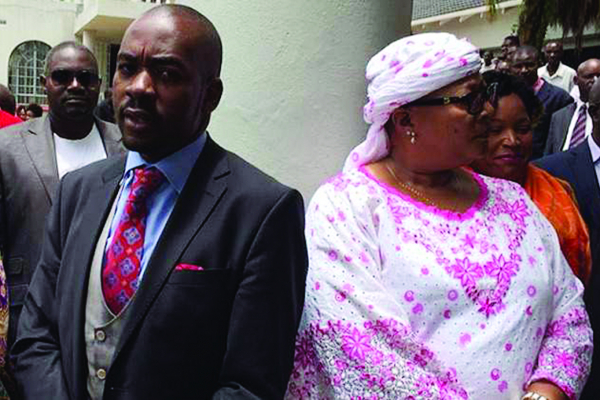 THE Supreme Court yesterday ruled that the legal fight over use of MDC-T party symbols between Nelson Chamisa and Thokozani Khupe's (pictured) camps should be heard by the High Court as a matter of urgency to determine which of the two factions was genuine.
BY CHARLES LAITON
The court ruling came as Chamisa's supporters stormed the Supreme Court grounds chanting derogatory slogans against Khupe, and labelling her a sell-out after she formed a breakaway faction.
Chamisa's camp had approached the Supreme Court on appeal after being angered by then Bulawayo High Court judge Justice Bere, who last month ordered that the factions to have their resolved through arbitration.
Judges of Appeal, Justices Paddington Garwe, Anne-Mary Gowora and Antonia Guvava, all unanimously issued an order by consent of Chamisa's lawyer Advocate Thabani Mpofu and Khupe's lawyer, Lovemore Madhuku.
"It is ordered by consent that; the appeal be and is hereby allowed with no order as to costs. The judgment of the court aquo is hereby set aside and in its place the following is substituted: – the application for this matter to be dealt with on an urgent basis is granted.
" In view of the material disputes of facts afflicting the application, It is ordered that the application be referred to trial for the resolution of the following disputes: (a) whether or not there are two MDC-T parties, (b) If not, whether the respondents (Khupe, Obert Gutu and Abednico Bhebhe) are entitled to the use of the name, symbol, logo and trademarks of the MDC-T," read Justice Garwe.
He added: "The chamber application filed in this matter shall stand as the summons and the notice of opposition as the appearance to defend. The applicant (MDC) shall, within a period of five days, file its declaration after which the respondents are to file their plea or either answers to the declaration within a further period of five days after which the matter is to proceed in terms of the Rule of this court. The matter shall be placed before any judge of this honourable court".
The wrangle broke out following the death of the party's founding leader, Morgan Tsvangirai, resulting in both Khupe and Chamisa claiming succession rights.