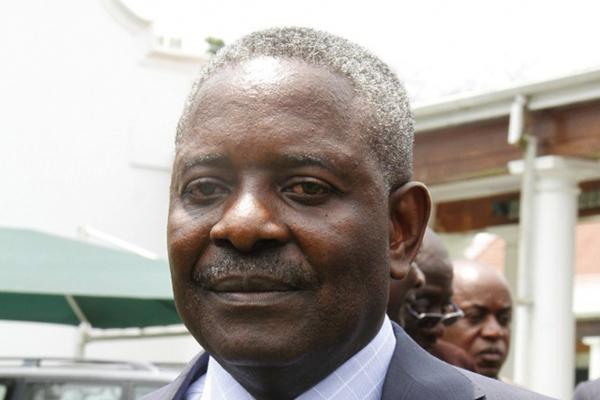 FORMER Central Intelligence Organisation (CIO) director-general Happyton Bonyongwe yesterday defended jailed Chinese businessman Sam Pa as the Parliamentary Portfolio Committee on Mines and Energy intensified its probe into the missing $15 million diamond revenue.
BY RICHARD CHIDZA
Pa, also known as Xu Jinghua, is regarded as an international "business fixer" and was arrested on October 8, 2015 and has been in jail ever since.
In Zimbabwe, he stands accused of funnelling "dirty money" into former President Robert Mugabe's then "discredited regime" when he entered into a joint diamond mining deal with the CIO.
Bonyongwe told the Temba Mliswa-led committee that at the time they signed the mining deal, Pa was recommended to him at a meeting of the world's intelligence bosses.
He, however, could not give the identity of the director-general who had recommended Pa to him or the country he came from.
"I will go into how we came across China International Fund. It was in 2008 as I attended a conference for [intelligence] director-generals from all over the world. I canvassed for investment into Zimbabwe because our economy was going through a bad patch," Bonyongwe said.
"One of the people the following morning at breakfast, I won't mention names of the country which helped us, because we won't get help."
He added: "Someone then referred an investor (Pa) to us. He came highly recommended and we vetted him at the time, there were no issues with China Investment Fund. It was another country and another DG who introduced us. We duly vetted him and established that he was a bona fide business man at the time.
"He was dealing with some companies and he was credible. Here is a picture with the Chinese President and the Russian President."
When Mliswa said he was not impressed with the explanation, insisting that government dealt with a known criminal, Bonyongwe stood his ground, saying Pa was a bona fide businessman.
Parliament heard that government went into an arrangement with Pa to set-up Sino-Zimbabwe that was supposed to prospect for diamonds in Marange.
According to a memorandum of understanding (MoU) read out by Mliswa, Pa was supposed to cough up $10 million "good faith deposit" into a joint account within three days of signing the agreement.
However, Bonyongwe and former CIO deputy director-general Gift Machengete claimed they did not know if the money was ever paid.
The $10 million was supposed to be paid back if the prospecting was unsuccessful.
"He (Pa) came in and he prospected, found no diamonds and donated the equipment to us and he did well for us. We are the ones who benefited as a department and as a country. Why should we be going after one person and raise issues which have a bearing on the matter beyond me?" Bonyongwe asked rhetorically.
The $10 million seems to have disappeared, with Machengete arguing he had never seen the MoU that had been given to the committee by the CIO.
The former CIO deputy-director suggested former Mines permanent secretary Francis Gudyanga "might know better".
Mliswa asked Bonyongwe if he did not care that a business partner of the government had been jailed, and the former CIO boss said: "We went into diamonds mining with Zimbabwe Mining Development Corporation (ZMDC). The department (CIO) had a claim. We made only 18 000 carats and sold for almost a million. The claim went to ZMDC. Looting diamonds? No one looted diamonds from the department. We are very clear on what happened to our claim."
Mliswa gave Bonyongwe and Machengete time to get their facts together and present to Parliament written submissions on the issue before the end of the week.