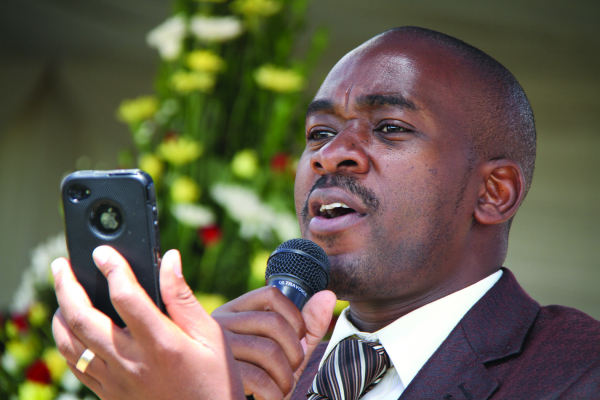 MDC Alliance leader, Nelson Chamisa on Thursday said the upcoming general election is a platform for the electorate to regain independence from Zanu PF "chefs", who are siphoning the country's resources at the expense of the majority.
BY STEPHEN CHADENGA
Addressing hundreds of supporters at Maboleni business centre in Vungu, Lower Gwelo, Chamisa said although Zimbabwe gained political independence from Britain in 1980, the majority of the people were forced into poverty by greedy Zanu PF politicians.
"In 2018, we are going to the elections to get back our independence from the few blacks, who have been benefiting from the country's resources for the past 38 years," he said.
"We might have got our flag (in 1980), but we still have leaders who are chefs, while the people they lead are servants. The people should be the chefs and the leaders servants of the people."
Chamisa slammed President Emmerson Mnangagwa's leadership style, saying he was feared by the people, rather than liked and respected.
He, however, urged his supporters to desist from denigrating Mnangagwa, saying he is a transitional President.
"He is there to bridge the gap between myself and (former) President (Robert) Mugabe. Mugabe represented the old order and I represent the new order and so Mnangagwa is the link between the two generations. We thank him for accepting to take the baton from Mugabe and then we take it from there forward," Chamisa said. He said the Zimbabwe Anti-Corruption Commission should be independent, with a specialised unit that has arresting powers.
"We are going to introduce stiffer penalties for those who steal from government coffers," the MDC Alliance leader said.
"There is also need to protect whistleblowers when they report corruption."
Chamisa dismissed allegations by the ruling party that his vision for the country was based on fantasy.
He said the country was rich and had vast resources that if properly channelled, could turnaround the economic fortunes of the country.
Meanwhile, renowned academic, Ibbo Mandaza has said "broken, tattered and fractured Zanu PF" has lost the support base, hence, it cannot win the forthcoming elections.
Speaking at a symposium on peace and the 2018 harmonised elections organised by the Election Resource Centre (ERC) and the University of Zimbabwe on Thursday, Mandaza said Zanu PF lost its base from the 1980s and has not been able to regain it.
"It's a fair conclusion to make that the party of revolution is broken, tattered, fractured and cannot possibly win elections in 2018. It's impossible," he said.
Mandaza said the November coup, which ousted Mugabe, ironically represented change in the disintegration of Zanu PF and not restoration as claimed by presidential spokesperson, George Charamba.
"There is disintegration, therefore, the apparent freedom that you are experiencing in rural areas, the extent to which the opposition has been able to hold rallies in areas they have never been able to have rallies before is not through the benevolence of this new dispensation," he said.
"It is because the state is disintegrated they are no longer able to control it. The State is divided army versus police, army versus CIO [Central Intelligence Organisation]. It's a fractured State."