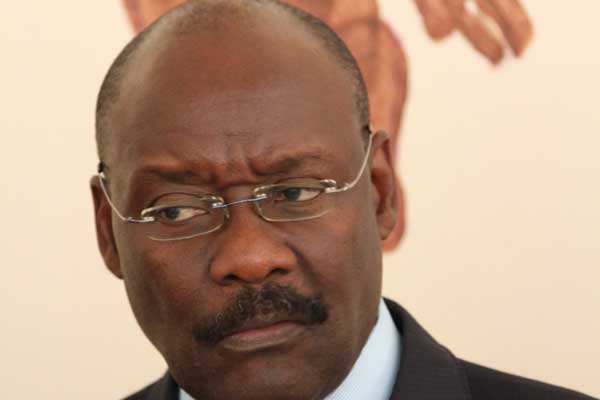 HEALTH and Child Care minister David Parirenyatwa has said Zimbabwe remained one of the countries worryingly overburdened by HIV and Aids and tuberculosis around the world.
BY TAFADZWA MUTACHA/VANESSA GONYE
In a speech read on his behalf by ministry principal director, Gibson Mhlanga at a the handover ceremony of anti-retro-viral therapy (ART) sites and pharmacy stores by United Nations Development Programme (UNDP) at Beatrice Road Infectious Diseases Hospital in Harare on Thursday, Parirenyatwa said despite a downward trend in new TB infections, the country remained among the World Health Organisation's list of 14 countries that were considered high-burden for multi-drug resistance TB as well as TB co-infections.
"The annual incidence of HIV was found to be 0,48% while the HIV prevalence was 13,8% in the 15 to 49 year age group and currently there are 1,4 million people estimated to be living with HIV and of these 1 119 909 adults and children were on antiretroviral therapy by December 2017.
"The ministry introduced ART into the public sector in 2004 with the aim of reducing HIV-related morbidity and mortality as well as improving the quality of life for people living with HIV in Zimbabwe," Parirenyatwa said.
Deputy director pharmacy services in the ministry, Newman Madzikwa said there was need to support ART sites to ensure there was control and TB prevalence is reduced in HIV patients.
"Zimbabwe still remains a high-burden country for TB as well as TB/HIV co-infection. Therefore, there is need to support ART sites to ensure infection control to reduce TB among HIV patients, at the same time significant progress has been made nationally towards reducing the epidemic," he said.
There are 1 722 health facilities in Zimbabwe and 91% of these offer ART services.
The handover saw the ministry receiving 40 renovated ART sites, 52 renovated pharmacy stores, air-conditioning units and shelving for the renovated stores and fridges and other essential commodities.