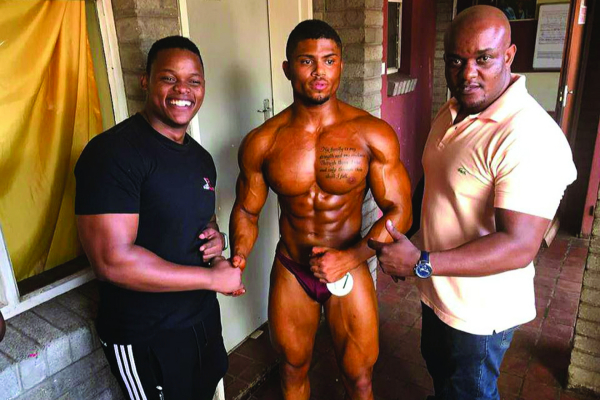 GERALD Woodend was crowned the Mr Novice Zimbabwe 2018 in a competition held at Zimbabwe College of Music on Saturday.
By Freeman Makopa
Woodend, who trains at Empire Gym in Harare, outclassed top athletes drawn from across the country, including Francis Chideme, Melton Chikumbu, Gilbert Jura Gift Firijori and Martin Chinyama.
"I can't describe the feeling, all I can say is I'm happy and I want to thank friends and my family for the support because without them I couldn't have scooped the title," Woodend said.
Federation of Zimbabwe Bodybuilding and Fitness secretary-general, Quiet Shangai, expressed satisfaction over the spirited performance shown by the athletes.
"I am delighted by the level of performance shown by all the athletes, it was a tough competition but we had a winner at the end of the day. The event was a developmental event meant to educate, capacitate and equip potential athletes, potential judges, potential administrators and potential fitness industry players at large," Shangai said.
A total of seven categories were contested namely; wheelchair men bodybuilding, junior men body building, women fitness, men's fitness, men's physique and senior men bodybuilding.
NFZBBF national development secretary, Keith Chimanzi, hailed the association for taking a step forward in encouraging women to participate in bodybuilding.
"I am very happy with the direction bodybuilding and fitness has taken. It has come full circle now and having developed the grassroots and I'm encouraged by women participation and that of disabled athletes, our next stage is to make a very big impression on the international stage.
"The next stop is Anold classics in May in South Africa followed by the world championships, if resources permit we will attend," he said.
The event has attracted a number of sponsors that include Café Nush and confectioners, Muscle Rage, Gs Fitness Academy, Muscle Exclusive, Fitness V Series, Beast Finesse and Generation Shop Fitters.
Results
Men's Fitness Division – Petros Mazhata (Harare), Junior Men Bodybuilding – Gerald Woodend (Harare), Wheelchair Men Bodybuilding- Tendai Muzavazi (Midlands), Women Bikini Model – Kylie Macdonald (Bulawayo), Men's Physique – Lewis Tembo (Harare), Senior Men Bodybuilding – Gerald Woodend – (Harare)