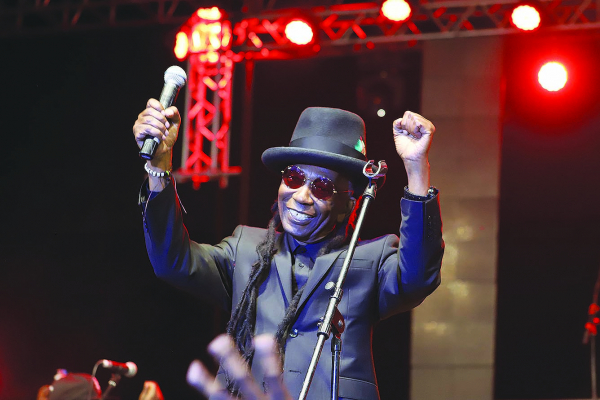 CHIMURENGA music legend Thomas "Mukanya" Mapfumo proved that he still commands a huge following on the local showbiz despite being in exile for over a decade as Glamis Arena was packed to the rafters during his homecoming Bira concert on Saturday.
BY WINSTONE ANTONIO
The Nyoka Musango hitmaker proved that his music has remained relevant as evidenced by the thousands of fans cutting across generations who thronged the concert. Backed by the Blacks Unlimited, Mukanya staged the concert courtesy of Entertainment Republic and he was supported by another legend Oliver Mtukudzi, as well as young stars, Winky D, Sulumani Chimbetu, Gary Tight and songbird Diana Samkange.
With such a stellar line-up of performers, all eyes were on Mukanya as some critics had questioned his capacity to deliver a splendid performance as age takes its toll on him.
Mukanya defied the odds and surprised many as he went on to put up almost a four-hour flawless performance that will linger in the hearts of many who attended the gig for long.
Dressed in all-black, from top to bottom, Mukanya took to the stage around 2am soon after Winky D's performance. The Lion of Zimbabwe as Mukanya is also fondly known, received a thunderous welcome which he also reciprocated by waving back to his fans.
During his performance, Mukanya could be seen constantly communicating with his band members possibly giving commands, demanding a polished set, which was well-received by fans.
At exactly 3am, Mapfumo had his first thirst-quencher on the stage as he requested and was given a bottle of water by a member of his camp which he received with his left hand as he was holding a cordless microphone in the other hand.
With the bottle of water in his hand, Mukanya kneeled down closer to a guitar that was on the centre monitor as he sang the song Nyoka Musango and he was later joined by Mtukudzi on the song much to the delight of the fans.
It was on that same song that saw Mapfumo undoing the upper button of his shirt before he went on to play the song Mugara Ndega, ignoring the fans' request of Mamvemve. Mukanya's playlist included yesteryear hits like Chikonzero, Pidigori, Chipatapata, Mukadzi Wamukoma, Chirombo Musango, Hwahwa, Chiruzevha Chapera, Chamunorwa, Chauya Chauya, Karigamombe, Shabeen and Ngoma Yedu among others.
During his performance, Mukanya also dished out some CDs and wristbands to the fans.
Sulumani Chimbetu, smartly dressed in white shirts and black trousers, gave his best as he claimed he was trying to fit in his late father's shoes whom he was representing at the concert.
"Today, I am not myself, I am standing in for my father, who should have been here performing with other legends," he shouted on stage.
Sulu went on to perform his father's songs with perfection among them Dzandipedza Mafuta, One Way, Kumagobo, Chauta, Pane Asipo and Spare Wheel.
After his performance, Sulu left the stage for Gary Tight, who failed to rise to the occasion and disappointed his fans. Although Tight has a reputation of doing better on gigs of such a magnitude, he failed to deliver a top-notch set.
The rising star, however, was comforted by the grandad of music, Mtukudzi, when he joined him on stage to perform their duet Ndizarurire much to the delight of the fans.
After his set, Tight handed over the microphone to Mtukudzi, and the legendary star did not disappoint. In the midst of his performance, Tuku praised the concert organisers for uniting many artistes.
"Mukanya, we had missed you, some of us had not had that opportunity to see Mukanya performing, God has made it possible. Mukanya is here. Mapfumo is a legend, so I am happy we have been united, so this concert is all about celebrating that," Tuku said.
Tuku's playlist had Dzoka Uyamwe, Pata Pata, Handiro Dambudziko and Bvuma, among others.
After his performance, Tuku remained backstage, as he later came on Winky D's set for their collaboration Panorwadza Moyo, sending merrymakers into a frenzy.
The Ninja President, as Winky D is known to his legion of fans, did not dampen the partying spirit as he belted hit after hit among them Bhebhi raMwari, Highway Code and Gafa.
Presented with such a golden opportunity to shine and rub shoulders with Zimbabwe's music superstars, which some had grabbed with both hands, Andy Muridzo should blame himself as he did not perform, with organisers claiming he did not avail himself for his slot.
After the concert, Mukanya was yesterday expected to travel to his rural home in Guruve amid reports that he was leaving for his United States base today.