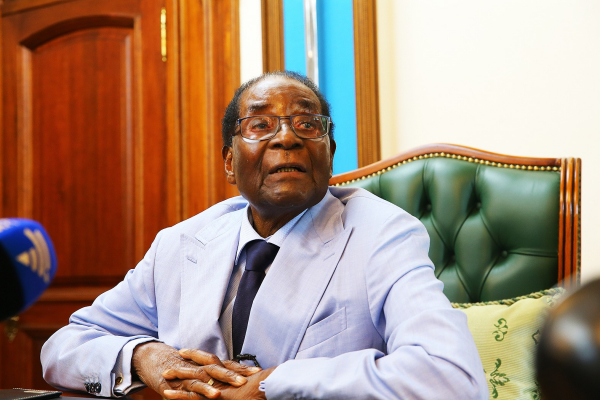 FORMER President Robert Mugabe reportedly lost 119 laptops and seven desktop computers from locked containers at the Polo Grounds adjacent to Zimbabwe House.
BY EVERSON MUSHAVA
It is understood the theft was discovered on Tuesday, when the Mugabes were moving their belongings from Zimbabwe House to their private residence in Borrowdale.
Former First Lady Grace Mugabe made a police report on the same day under case number CR110/04/18, with a detective Nyabonde being the investigating officer.
"They broke into three containers using a bolt cutter," a source said.
"The containers had personal belongings of the (former) First Family.
"When Mugabe resigned after the military intervention, the former First Family was asked to remove their belongings and because of limited time, some of the items were left in containers at Polo Grounds next to the presidential helipad."
It is claimed the computers were meant to be donated to schools.
Police spokesperson, Senior Assistant Commissioner Charity Charamba said she had left the office, when she was sought for comment yesterday, but she said she would look into the matter.
Repeated efforts to contact her later were fruitless, as her mobile phone was no longer available. On Thursday, Charamba had said she knew nothing about the case and asked that she be called yesterday. Grace's lawyer, Walter Chivore of Chivore and Partners law firm confirmed that the former First Lady had filed a police report.
Last month, the Mugabe family claimed to have lost laptops at the Mazowe orphanage home, attributing the theft to gold panners, who had invaded Smithfield Farm, whose ownership was being contested.
But Home Affairs minister Obert Mpofu dismissed the reports as false, claiming there was a land dispute with artisanal miners, while the computers were stolen some time back and the culprits, who were employed by the Mugabes had been arrested.
However, the Mugabes insist that about 35 laptops were stolen from the orphanage, eight of them on March 2 and the matter was reported to the police under case number CR25/03/18 and the investigating officer was identified as a Constable Shirichena.
Twenty-seven computers were allegedly stolen on March 12 and the matter was reported again at the Mazowe Police Station and the investigating officer was identified as Detective Gondo.