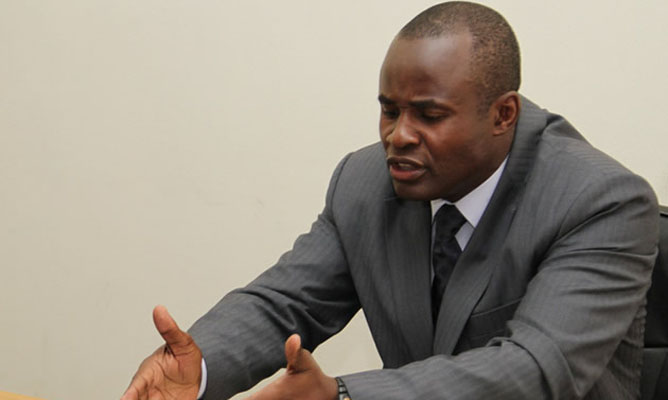 HOUSE of Assembly member, Temba Mliswa has demanded the resignation of the Zimbabwe Cricket board accusing them of among other things misappropriation of funds, running the game down as well as incompetence.
BY KEVIN MAPASURE
Mliswa addressed a Press conference together with aggrieved former Zimbabwe Cricket workers among them groundsmen, where he gave the administration a week to vacate office failure to which they will form parallel structures.
He also implored Sports minister Kazembe Kazembe to dissolve the ZC board.
The former rugby player said that they had been watching while the game was been run down by thieving administrators, but they had now decided to act, following the dismissal of the national teams' coaching staff.
Senior national cricket team coach Heath Streak was dismissed together with the assistants as well as convenor of selectors Tatenda Taibu last week following the team's failure to qualify for the International Cricket Council World Cup after they lost to the United Arab Emirates in their final Super Six stage match.
ZC board chairman, Tavengwa Mukuhlani scoffed at Mliswa's accusations, saying that the legislator was free to approach the police or the Zimbabwe Anti-Corruption Commission so that arrests can be made.
He said his board would stay put in their positions.
Mliswa said that he was taking this matter seriously and promised that he would be successful in his bid.
"I never pick a fight that I do not win. I can tell you I will win this fight and all these people will be booted out. ZC is the only board that does not have experts in the area. There are no cricketers in the current board. They have no knowledge of running the game. All they are waiting for is the money coming in from the ICC. We have been watching them misusing funds, and running the game down but now it's time to put an end to all this and it's time to relieve them of the posts. Matches are regularly cancelled due to the excuse of lack of funds. Players are getting half salaries. We call on all Zimbabweans to boycott any international match played until these people are gone."
Mliswa also said that the board was trying to hide behind non-existent race issues.
But Mukuhlani said that he had never brought up the race issue and only wanted Streak to explain his team selection for the United Arab Emirates match.
"I never called Heath Streak a racist. But I just want him to explain certain things that happened on the day of the United Arab Emirates match. Why was the release of information to players done at such different times. The white guys that were playing were all told the night before the match, while Cephas Zhuwawo was only told that he had been dropped during warm up. There is a possibility that this match was fixed. Certain things don't make sense and Streak should come out and explain the changes that he made to the team," he said.
Mukuhlani scoffed at Mliswa's allegation that his organisation was misappropriating funds, saying those who have evidence can take it to the police.
"If we are stealing from ZC, the easiest way to get us out is to get us arrested. Why are these people who are talking about us stealing not reporting us to the police or Anti Corruption Commission."