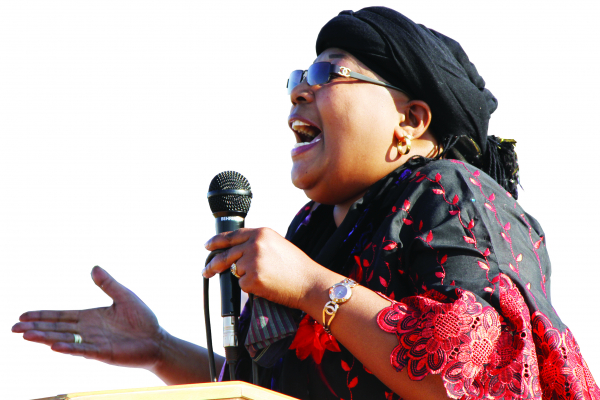 FORMER Deputy Prime Minister and self-appointed leader of a break-away group of the opposition MDC-T, Thokozani Khupe, has written to government demanding her share of money allocated to the opposition party under the Political Parties Finance Act.
BY RICHARD CHIDZA
This came after MDC-T leader Nelson Chamisa's administration collected $1,8 million disbursed by Treasury, as its share of the Political Parties Finance Act.
But the Khupe faction's spokesperson, Obert Gutu, yesterday insisted they would get their share of the spoils.
"We have written to the relevant authorities and the response has been good. We are happy with the communication we have had with authorities and are confident we will get our money.
"We maintain that we are the legitimate MDC-T and president Khupe has the constitutional power to run the party because she received a mandate from congress and not these pretenders," Gutu said in an apparent jibe directed at Chamisa.
"It would not be proper for us to discuss these issues with the Press. We cannot go into detail, but can tell you all is in place and we are happy."
Chamisa has reportedly already triggered a process to recall Khupe and her acolytes from Parliament, after the latter were sacked for refusing to recognise his appointment as party leader following the death of the MDC-T founder Morgan Tsvangirai.
The two groups are already at each other's throats over the party's name, with Chamisa having given Khupe an ultimatum to refrain from presenting herself as "MDC-T acting president", setting the stage for a bruising legal battle.
A battle for the name of the party could potentially confuse voters in the upcoming elections.
The original MDC also split in 2005 after Tsvangirai disagreed with another former secretary-general Welshman Ncube, resulting in another legal wrangle for money.
Khupe has set her sights on cementing herself as party leader by convening a congress on April 21, in a move that could push Chamisa into the spotlight.
But the Kuwadzana East lawmaker rejected calls for an elective gathering after Tsvangirai's death, pushing his way to the top using party structures like the national council.