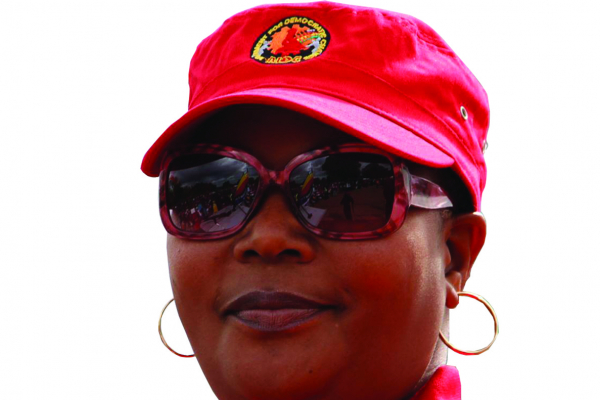 WOMEN across the political divide have vowed to stand by former MDC-T deputy president, Thokozani Khupe who has been under siege from the party amid allegations she was a victim of violence at the late party leader, Morgan Tsvangirai's funeral in Buhera.
BY TALENT GUMPO/SHARON SIBINDI
The women from various opposition parties, who convened at the Zimbabwe International Trade Fair (ZITF) for a high tea event to give Khupe moral and spiritual support, on Wednesday expressed dismay over her ill-treatment by her male counterparts.
Speaking at the at event, the organiser — an entrepreneur and women's rights activist — Loreen Ncube, said women in politics had been under siege since time immemorial and it was time for them to stand together against perpetrators.
"We saw such injustices happening to former Vice-President Joice Mujuru and we pointed out that she is under siege because she is a woman, but we did not get support because we were told to distance ourselves from Zanu PF squabbles," she said.
"We have seen it happening again to Khupe and we have decided that we cannot let it continue because injustice to one is injustice to all.
"We should not allow the discrimination of people in the MDC-T purely on their gender or ethnic origin.
"We have come up to say she is not alone.
"Whenever a woman is in trouble, we are all going to rise and give them support."
Ncube said the event was the start of a "pull-her-up" generation among women in the country.
MDC Proportional Representation legislator, Priscilla Misihairabwi-Mushonga said battle lines were drawn when men started "beating" Khupe.
"If this is going to be about who is more powerful then watch this space, there will be a time when we will be holding women's rallies regardless of which political party you come from to stand together as women," she said.
"The treatment that we get from men in parties is not right because for half of our lives we have been protecting them.
"Khupe protected Tsvangirai to his grave; but is now being labelled a traitor and the years she invested protecting the late are long forgotten."
PDP leader, Lucia Matibenga urged Khupe to stand tall during "trying times".
"Tell them that they will not do anything to you because when we will fight, we fight to the bitter end," she said.
"We have created enemies because we are strong women.
"Let us learn that we work across the political divide on women's issues, we are putting an end to the habit of being angry on behalf of men. They must create their own anger," she said.
In her speech, Khupe said women share similar experiences.
"When I am looking at all of you, I see myself because my story is your story and your story is my story," she said.
Khupe vowed not to disappoint Zimbabwean women.
"I will not disappoint the women of Zimbabwe," she said.
"I am going to fight to the finish, forward ever, backward never.
"I would like to thank my friends Priscilla and Lucy for being with me through thick and thin.
"I would like to thank my colleague, Abednico Bhebhe, a comrade and a colleague in the struggle for democracy, struggle for the respect of constitutionalism, in the struggle for non-violence, non-discrimination. He is a gentleman and always stood with us through thick and thin."
Khupe said women were smart, powerful, creative and drive the economy.
The high tea event was attended by women from PDP, NPP, MDC-T and several civil society organisations.
Meanwhile, Khupe was injured on the right side of her temple in a traffic accident on her way to the high tea event when the vehicle she was travelling in burst a tyre along the Gwanda-Bulawayo Road.
Misihairabwi-Mushonga confirmed the accident.
"Khupe was delayed by an accident when a vehicle she was travelling in had a tyre burst and she got hurt on the forehead," she said