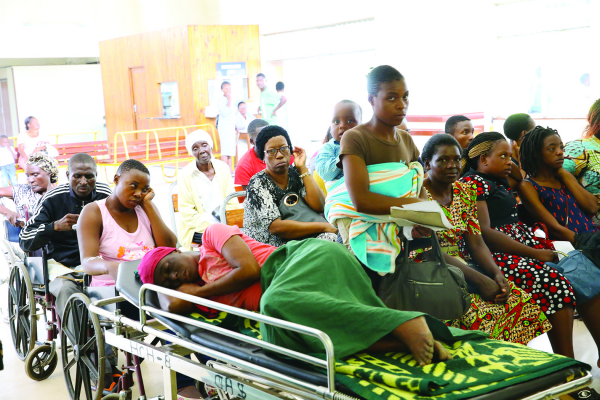 GOVERNMENT has, with immediate effect, fired all nurses at public hospitals who downed tools on Monday and immediately replaced them with retired and trained-but-unemployed nurses, as a stop-gap measure to save lives.
BY KUDZAI MUCHENJEKWA/ SINDISO DUBE/ NHAU MANGIRAZI
This came after management at most major hospitals also joined the nurses' industrial action.
Vice-President Constantino Chiwenga, in his capacity as supervisor of government's social services cluster, in a statement said the drastic measure was taken after nurses continued with their strike after Treasury had disbursed $17 114 446 to cover the outstanding salary arrears for nurses.
"Accordingly, government has decided, in the interest of patients and of saving lives, to discharge all the striking nurses with immediate effect. Further, the government has now instructed the Health Services Board to speedily engage, as appropriate, all unemployed, but trained nurses in the country. It has also authorised the board to recall retired nursing staff into the service," he said.
Chiwenga applauded nurses who did not join the strike or had returned to work for their "deep regard for life as required by their professional oath".
He said the strike was "politically motivated, and, thus, going beyond concerns of conditions of service and worker welfare".
The nurses were demanding that their night duty allowances be hiked from 0,76 cents per hour to $70.
Chiwenga's statement came after Health minister David Parirenyatwa on Monday ordered the nurses to return to work, as their issues were being looked into by Treasury.
Zimbabwe Nurses' Association secretary-general Enock Dongo yesterday confirmed that the situation had deteriorated at public health institutions, as management had joined the strike action, with patients being discharged prematurely as most departments were closed.
Solwayo Ngwenya, the clinical director at Mpilo Central Hospital in Bulawayo, said the remaining skeletal staff was only attending to emergency cases.
In Karoi, a diabetic patient reportedly died yesterday afternoon after he was turned away at Karoi District Hospital on Monday because of the strike.
The nurses' strike came shortly after government succumbed to doctors' demands and undertook to hike their salaries following a month-long strike.
The industrial action only ended after President Emmerson Mnangagwa had intervened.
Zimbabwe Hospital Doctors' Association Mxolisi Ngwenya said the HSB agreed to review upwards their on-call allowances and to provide equipment needed in hospitals.
"We have received an upward review of on-call allowances, noting that members work round the clock for up to 360 continuous hours. This is a health specific allowance.
Understanding the current limitations in the economy, we hope to continually review until we attain regional and international standards," he said, adding that junior doctors' on-call allowance was reviewed from the current $1,50 per hour to $7,50 per hour for 160 hours as a flat fee of $1 200 per month.