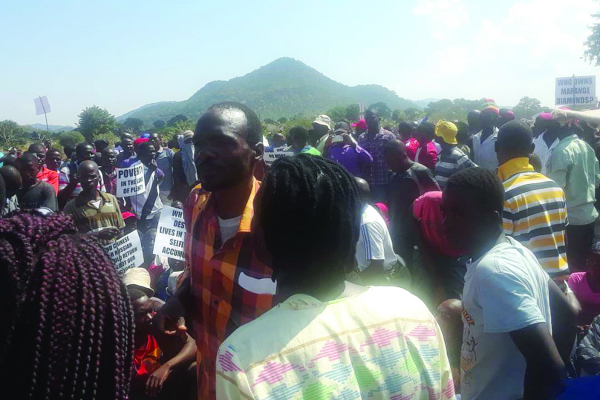 HUNDREDS of Chiadzwa villagers yesterday defied the heavy presence of riot police officers and went ahead with their demonstration against Zimbabwe Consolidated Diamond Company (ZCDC)'s alleged failure to develop the area and provide them with jobs at the diamond mining sites.
BY KENNETH NYANGANI
Armed with placards inscribed No to Displacement, Our Lives are More Precious than Diamonds", "Stop Mining and Tell us Where the Missing $15 Million Is" resisted the tear smoke thrown at them and marched from Chipindirwe to Zengeni, denouncing the company for reneging on most of its promises to better their lives.
Human rights activists and Centre for Natural Resource Governance (CNRG) director Farai Maguwu applauded the Marange community before slamming the police action.
''Hats off to the people of Marange for standing up to this monument called the ZCDC and its predecessors. The demands of the community are profound and straight forward,'' he said.
"They want real development. No to imprisonment of a proud people through placement of the community under Protected Places and Area Act.
"Marange is not a park, these are the people and not animals. No to torture and ZCDC killings, we also helped in organising this demonstration because we saw that the community was not benefiting." He added: "The action by police was despicable insensitive and inhuman, adding to the suffering of the Marange community they have endured in all these years.''
ZCDC chief executive officer Morris Mpofu, however, chose to downplay the incident, saying it was just a small group of people pursuing an unclear motive.
"This is a small group who are demonstrating and we don't know their motive. As ZCDC, we have been engaging every people in Chiadzwa, including the traditional leaders,'' he said.
''There is a grader in the road which is upgrading the road for 20km, school children are under roofs and in clinics people are under-roofs. ZCDC has not yet started selling diamonds and we have been using our capital."
Among other grievances, the villagers claimed the diamond mining firms had desecrated their graveyards, provided them with inadequate accommodation and taken away their grazing lands.