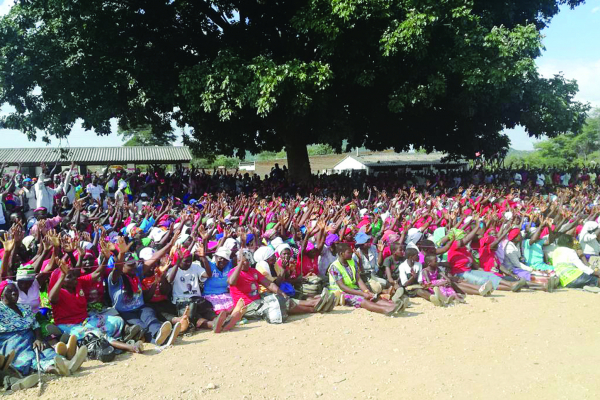 MDC-T leader Nelson Chamisa re-ignited hope in opposition politics to thousands of party supporters in Manicaland when he addressed bumper crowds at two campaign rallies in Chipinge and Nyanga at the weekend.
BY KENNETH NYANGANI
Party supporters told NewsDay that such large gatherings were last held a few years ago when then party founder Morgan Tsvangirai was still in good health.
Tsvangirai succumbed to cancer of the colon in February this year, culminating in Chamisa's take over as party leader and presidential candidate for this year's polls.
Even Chamisa said he was shocked by the huge turnout at the weekend rallies.
"What I am seeing here is very amazing. This is a great crowd, then I will give the chairman of this province [David Chimhini] a post in my next MDC-T government," he said while addressing supporters at Kondo business centre in Chipinge West constituency on Saturday.
Chamisa promised to upgrade the country's hospitals and improve health delivery soon after taking the reins of government power.
"We have what we call the Chamisa care. In Chamisa care, patients with diabetes, cancer and other chronic diseases will be treated for free and you should not die. Some will say where are we going to get the money? We have a plan," he said
"Every district should have hospitals and we are going to upgrade our hospitals to hotel standards. We are going to introduce this once elected into power. We are going to have some people feigning illness so that they can go and it eat good food in the hospitals."
The opposition has blamed the Zanu PF regime of running down the country's health delivery system.
Chamisa also re-affirmed the party's position of declaring Zanu founder Ndabaningi Sithole a national hero.
"We came here with our president Morgan Tsvangirai and visited Mt Selinda to pay respects at his grave. We were welcomed by traditional dancers, and he is one of the people who represented us in the liberation struggle. He is our national hero, there is no doubt about that," he said
"Today, I am speaking of his history because as soon as we are in government, we want to exhume and rebury his remains at the National Heroes' Acre."
Ndabaningi died in the United States in December 2000 and was buried at his family farm in Chipinge after being denied national hero status by former President Robert Mugabe, who labelled him a liberation war "sellout".