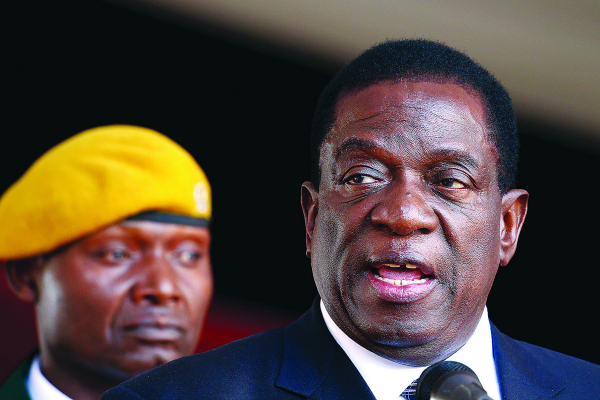 PRESIDENT Emmerson Mnangagwa's "dead bureaucracy" could stifle his vision and economic resuscitation programmes, opposition MDC-T national executive member Tapiwa Mashakada has said.
BY RICHARD CHIDZA
Mashakada, in a statement yesterday, said investors should not expect much from Mnangagwa's "recycled and dead administration", which could not easily adopt to change.
"The President's Office is full of deadwood. It is full of people who cannot be reformed, so how can they be reformed? They cannot embrace change," he said.
Mashakada added that there were some within government still sympathetic to former President Robert Mugabe and, therefore, likely to sabotage the new administration, warning Mnangagwa might want to establish new capacity if his vision was to be realised.
"In fact, the bulk of government bureaucrats are still locked up in the past. They have not embraced the new dispensation. They do not believe in the ED (Mnangagwa) administration at all," the former Economic Planning minister, who served in the 2009-13 coalition government, said.
"We must agree that Zanu PF has reached its ceiling and there are weevils at technical level, who will throw spanners in the works. Even the parastatal reform process is going to be a pipe-dream because bureaucrats will frustrate its implementation."
But Mnangagwa's spokesperson George Charamba challenged Mashakada to bring his ideas to the table.
Charamba argued Mnangagwa had "been preaching the gospel of business and less politics".
"President Mnangagwa has pronounced a policy of an open economy. That Zimbabwe is open for business narrative which means his administration is open to new ideas from Zimbabweans. Mashakada is a Zimbabwean and if he brings his ideas to the table, he will find this government very welcoming," he said.
"This is no longer the time of shouting at each other. We must stop the name-calling. This is a reconstruction phase and we are building the new architecture for service delivery so the time has come for Zimbabweans to bring to the table new competencies."
Charamba said during the Government of National Unity (GNU), ministers from the opposition had admitted to the strengths of the bureaucracy that Zanu PF had built.
"If anything, people like the then Finance minister Tendai Biti said the one thing that was positive about the Zanu PF government was that it had managed to build a competent bureaucracy. We cannot wake up now and wish away the bureaucracy that we have, the GNU adopted the same and I think it worked well," the Presidential spokesperson added.
Mnangagwa visited Rwanda last month and was charmed by the extent to which Rwanda dealt with new investors, so he decided to invite officials from the Rwanda Development Board, led by chief executive Clare Akamanzi, to address Cabinet ministers, Zanu PF politburo members and senior government bureaucrats.
Mashakada said there was no need for government to re-invent the wheel, claiming Mnangagwa had poached his mantra "Zimbabwe is Open for Business", adding he was the first to invite Nigerian billionaire Aliko Dangote to Zimbabwe.
He added he also visited Mauritius, where "investment licences and permits are issued digitally on real time within 24 hours."
The former minister said Cabinet had adopted his recommendations and released funds for the project before it collapsed due to government red tape.
"(All) hell broke loose. Turfism (sic) set in and politics too," he said.
According to Mashakada, he produced the Investment Promotion and Protection Bill's principles, but this was rejected by the Zanu PF side of government during the unity government era.