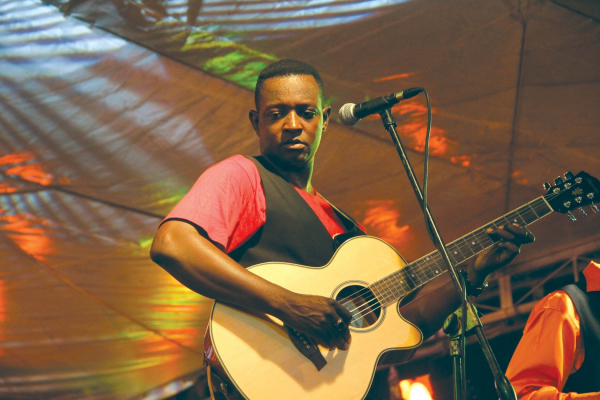 DENDERA musician Sulumani Chimbetu, whose music career had been on the wane as he battled domestic woes, is set to inject more life into his music with the forthcoming launch of his latest album whose production has just been wrapped up. BY JAIROS SAUNYAMA
Dendera Kings publicist Joe Local Nyamungoma yesterday told NewsDay Life & Style that although the yet-to-be-named album was now ready, they are yet to decide on a launch date as they were watching current trends in local music.
Sulu has been playing one of the songs, Asante Sana, at his live gigs named after President Robert Mugabe's 2017 infamous speech in which he signed off urging Zimbabweans to join him in rebuilding the country on a day the nation was expecting him to resign.
Nyamungoma said Sulu will play the full eight-track album for the first time during the Dendera Kings' gig at Legends Sports Diner in Marondera on Saturday.
"The album is ready. Takungoda kutarisa kuti mhepo iri kufamba sei (we are just watching the trends in local music), so that we can announce the launch date. The title of the album is going to come as a surprise to our fans," he said.
"Our fans in Marondera will have an opportunity to feel the new stuff before anyone else. We are going to play two new songs for the first time and they should brace for that. On the forthcoming album, the song Asante Sana is there including a remix we did with Mukanya (Thomas Mapfumo) called Mukanya Mugomo. He (Mukanya) is putting final touches on the song," he said.
Sulu will share the stage with Faheem Somanje and Pengaudzoke Crew.
Sulu's last album Jamboree did well with a song Alice Mbewe being the crowd favourite at live shows.
Meanwhile, Legends Sports Diner owner Daniel Masaiti said the gig was meant for both artistes to introduce their new material to their fans.
"It is a good thing for fans to have a feel of the album before it hits the streets. Faheem Somanje is also in the studio recording his second album and fans will be spoilt for choice come Saturday," he said.
Sulu spent the greater part of last year at the courts over child maintenance issues and was spared jail time last month, after he was convicted for defaulting maintenance payment.