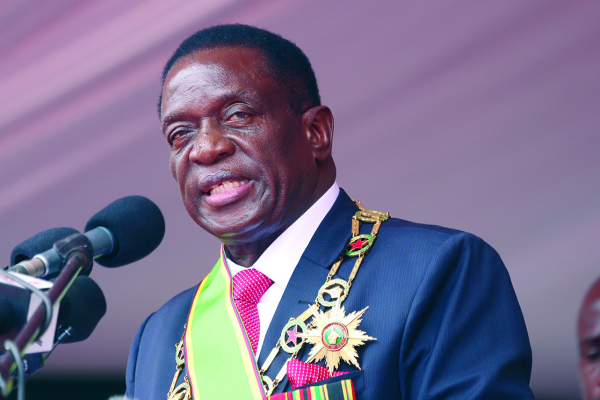 PRESIDENT Emmerson Mnangagwa's pledge for free and fair elections this year has come under scrutiny, with the opposition and analysts describing the Zanu PF leader as insincere after he recently claimed the 2008 polls were free and fair.
BY MANAYITI
Mnangagwa reportedly told international business magazine, Economist, that not even a single case of violence was filed with the police, suggesting the 2008 elections were peaceful, although the opposition insists the polls were one of the most violent in the country's history, with more than 200 MDC-T activists reportedly killed, while thousands others were internally displaced in the presidential election run-off held in June 2008.
"It was very fair, very fair," he said of the 2008 elections. "Where is the evidence of the violence? Was it taken to the police?"
Former President Robert Mugabe was declared eventual winner after his main rival, the late MDC-T leader, Morgan Tsvangirai, pulled out of the race citing persecution of his supporters by ruling Zanu PF party activists and State security agents.
Tsvangirai initially fled the country and later came back to form a coalition government with Mugabe after the international community refused to recognise the latter's election victory.
Analysts and opposition parties yesterday said it was shocking to hear Mnangagwa claiming that the 2008 elections were violent-free.
"He has chosen to have selective amnesia after about 300 of MDC-T supporters were murdered in cold blood,"
MDC-T secretary-general Douglas Mwonzora said.
"This means this year's elections won't be free and fair if the President lies about the 2008 election. It is on record that Tsvangirai withdrew from that election because of violence, the regional body Sadc and the international community condemned that election too," he said while dismissing Mnangagwa's assertions.
Coalition for Democrats presidential candidate, Elton Mangoma said Mnangagwa's view showed his standard of a free and fair election.
"It shows his standard. If he considers 2008 elections, which were condemned by the international community to be fair, then it means we are talking about different things. It seems he is going to repeat what happened in 2008," he said.
"For him, the use of violence is normal and if he was genuine on free and fair election then he must have repealed Posa [Public Order and Security Act] and Aippa [Access to Information and Protection of Privacy Act] by now. The longer he keeps ZBC to himself, then it means there are no prospects of free and fair elections."
Transform Zimbabwe leader, Jacob Ngarivhume described Mnangagwa as insincere on ensuring peaceful polls.
"This shows how insincere Mnangagwa is. This shows how untruthful he is. This is a good indication that he is not a new dispensation. He is old wine in a new bottle and he is determined to make sure that Zimbabweans never know the truth of what happened to them since 1980. It shows that this man is unfaithful and he will change nothing," he said.
"He knows the truth about 2008. He presided over the JOC [Joint Operations Command], which committed serious crimes when they tried to express themselves and it's unfortunate that he is saying there is no violence. This is pathetic and disgusting."
People's Democratic Party spokesperson, Jacob Mafume said: "We wish they would have the dignity of allowing people to mourn in peace. They presided over a very violent State, where they used violence to suppress instead of investigating. The fact that he didn't report his own poisoning to police tells you a lot."
National Constitutional Assembly spokesperson, Madock Chivasa weighed in saying: "It's a display of arrogance that is worse than hypocrisy. Assuming that there are no reports made, there is evidence in the form of graves of people murdered by Zanu PF in 2008. His sentiments show that his pledge of a free and fair election is a mere lip service."
Harare Residents' Trust director Mfundo Mlilo said: "It removes the veil that there is anything new about this administration. There is no way Mnangagwa can admit to the challenges and loss of life in that election because he was the political leader of the programme."
Political activist, Patson Dzamara said it was shocking that Mnangagwa would say the 2008 polls were free and fair.
"His Excellency is proving each day that there is nothing excellent about him. Reputable organisations including Sadc and the AU [African Union] concurred that the election was not only unfree and unfair, but that it did not reflect the will of the people, hence, former South Africa President Thabo Mbeki was sent to push for the GPA [Global Political Agreement]," he said.
He said local human rights groups such as the Zimbabwe Peace Project and Zimbabwe Lawyers for Human Rights had documented the hideous crimes of murder, rape and torture perpetrated against opposition supporters, particularly ahead of the presidential run-off election held in June 2008 after the March polls failed to produce an outright winner between Tsvangirai and Mugabe.
Vendors' leader, Samuel Wadzai said it was only natural that, as Mugabe's chief elections officer at the time, there was no way Mnangagwa could have described the polls as violent.
"Why should we trust or believe him if he is not ready to reveal the truth of what happened in 2008? We urge ED to come out and disclose to the nation what really happened in 2008 if he wants us to dance to his chorus of free and fair elections," he said