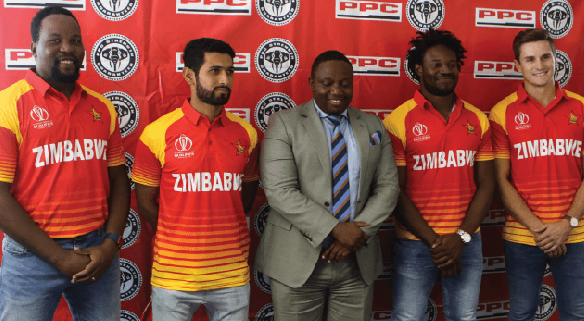 THE Zimbabwe national cricket team yesterday received a timely boost after cement manufacturing company PPC unveiled a sponsorship package for the team ahead of the International Cricket Council qualifiers starting on March 4.
BY GARISH PHIRI
Zimbabwe Cricket (ZC) and PPC unveiled a new kit for the team that will be used during the tournament and the company will construct nets across the country to aid cricket development.
ZC board chairman Tavengwa Mukuhlani expressed delight at the deal and promised that the team would do well in the qualifiers which will be played in Harare, Bulawayo and Kwekwe.
"I believe that our association with the PPC makes for a dynamic partnership and will help us to raise our profile as a stable and structured sporting organisation with a bright future," he said. "We are gathered here today to witness the birth of a partnership that will look at the building blocks of cricket in our country"
Mukuhlani acknowledged that the team had been struggling of late, but said that the future was bright.
"It is clear on field performance at an international level will always be seen as the yard stick for success on the global stage. Therefore, as the organisation responsible for producing a successful national team, we have to create a structure where this is our ultimate goal. We can't afford to let down the kids who might have otherwise made it to the top level of cricket. If we can help unearth a new breed of talented players, if we can help blood them into the national framework, then we will be doing our best to make sure Zimbabwe a more consistently competitive cricket nation."
Minister of Sports Kazembe Kazembe, who officiated at the occasion, commended the company for partnering cricket and expressed optimism ahead of the qualifiers.
He said that sport was no longer a pastime activity in Zimbabwe.
"When I look at the sporting community in Zimbabwe today, I see more than people participating in sport. I see bona fide sports consumers, people who are passionately engaged in sports as players, volunteers and spectators. I see people consuming sports leisure, for health, for business and to challenge themselves.
Zimbabweans no longer just play sports, we debate and champion sports. Our increasing consumption of sport at all levels and cricket in particular has not gone unnoticed by the corporate world."
Kazembe said that he had been assured by Mukuhlani that the team would do well in the qualifiers, where out of the 10 nations participating only two will make it to the England and Wales 2019 finals.