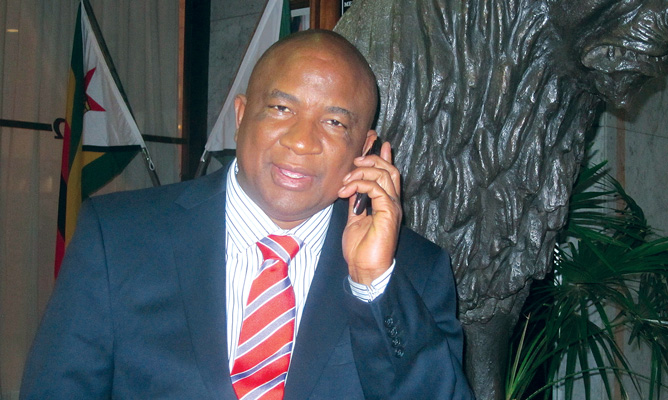 A SWITZERLAND company, Infront Sports and Media has approached Zifa in a bid to take over the broadcast rights of the Castle Lager Premier Soccer League, a development that sets the topflight well poised for a mega television deal.
BY Kevin Mapasure
The company is set to compete for the rights with Kwese TV, who have already expressed interest in taking over from SuperSport, whose deal with the Premier Soccer League expired at the end of 2017.
Infront is looking to entice the PSL with an offer that competes with some of the best in the region.
Zifa president Philip Chiyangwa, who is in Morocco on Caf business, yesterday confirmed that his organisation had been approached by the company and has communicated with the PSL for them to consider the proposal.
Last month the PSL invited tenders for broadcasting companies interested in taking over the local league's rights.
The tendering process is still on and closes next week.
Chiyangwa said he was aware there were other companies interested and they were looking for the best deal that will benefit the local game.
"Infront Sports and Media is one of the companies that have expressed interest in taking over the broadcast rights of our football," he said.
"We are not only looking at the topflight but we also want to have something for the Division Ones, as well as the national teams. Infront is not the only company that has approached us, we have others and it is important that we get the best deal that gives us the best returns." Infront Sports and media describes itself as: "As one of the leading international producers and distributors of high quality sports content, Infront provides access to the world's best sports properties. Infront understands the needs of the global media community and has the experience and capacity to tailor productions of any scale – developing convenient and coherent, high quality content."
SuperSport and PSL signed a six-year deal in 2012 with the broadcaster paying $400 000 in the first year of the deal, but local clubs were not happy with the financial rewards that accrued from the broadcasting rights.
Last year the topflight league's sponsors Delta Beverages urged the PSL to seek a more lucrative broadcast deal which prompted the league management to invite tenders.
In 2015 the Zambian Football Association signed a $1 million a year deal which will run till next year.
After Zimbabwe ended its relationship with SupeSport, Zambia and South Africa are the only countries that still have a relationship with the broadcaster.