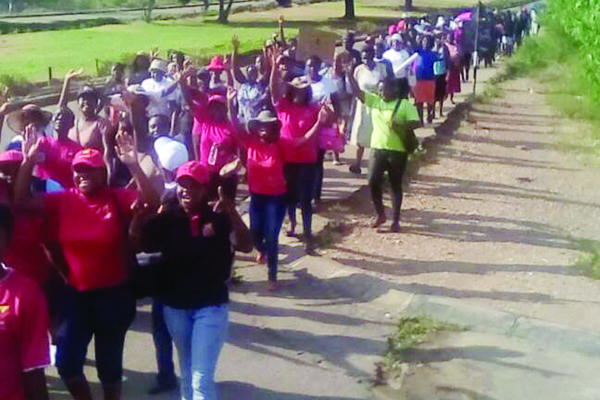 HUNDREDS of spouses of Hwange Colliery Company Limited (HCCL) employees have been staging a sit-in at the coal mining company premises since Monday demanding payment of their husbands' outstanding salaries.
By Nokhuthaba Dlamini
Watch video
The placard-waving protesters, who also included mine workers' children and widows, yesterday accused the company of reneging on its pledge to stagger monthly payments of wages accrued since 2014.
They sang in Ndebele, Shona, Nambya and Tonga denouncing the managing director, Thomas Makore, accusing him of being "greedy and selfish" and leading a lavish lifestyle while workers and their families were suffering.
Some of the placards read: "First Lady, why can't you come and help us"; "Five years no pay, but going to work everyday"; "Enough is enough"; "Makore must pack his bags and go".
Heavily-armed police officers and soldiers secured the company's main offices to ensure the protesters did not break into the offices.
The protesters accused mine management of refusing to address them, with Makore reported to have flown to Harare when the protests started on Monday.
"Makore flew to Harare when he heard that we were coming and his human resources manager, Munangwa, has been hiding. We will not leave this place until something happens," a protester said. "These police are not for people. We sought clearance and they never bothered to approve and now they have turned against us as if we are committing an offence. They can arrest us, but we want our children to go to school and have all the resources required."
Matabeleland North provincial police spokesperson, Inspector Siphiwe Makonese confirmed receiving a letter informing the police of the women's intention to demonstrate, but said they were yet to approve the protests.
HCCL has been paying its workforce 50% of their salaries since the beginning of last year and last June, the company managed to pay 7% of the employees' 2014 outstanding dues.
Last month, the company managed to pay the allotted 2,6% monthly payment as per the scheme of arrangement.
Efforts to get a comment from HCCL officials were fruitless as visitors were barred from accessing the premises and Makore's mobile phone was unreachable.