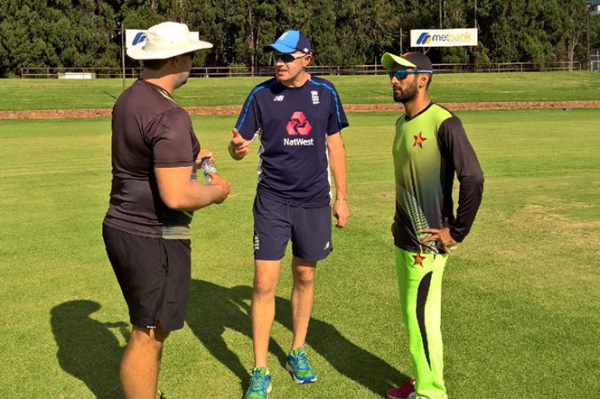 Former Zimbabwe seam bowler Douglas Hondo could bounce back as the national team bowling coach after he was assigned the role for the Bangladesh cricket tour where they will play a tri-series that also includes Sri Lanka.
BY Kevin Mapasure
Hondo was part of the team's training session yesterday and comes in as a replacement for Makhaya Ntini, who was left in the cold this week.
Zimbabwe Cricket (ZC) claimed in a statement that Ntini had tendered his resignation, but the former South Africa fast bowler said he had been pushed out.
This has opened up an opportunity for Hondo, who worked in that capacity when Dave Whatmore was still national team coach.
It had been widely believed that ZC would do away with the services of a bowling coach since they have Heath Streak as head coach, but the coming-in of Hondo for the series and possibly the United Arab Emirates tour, where they will play Afghanistan, has shown a permanent replacement for Ntini will still be sought.
The Zimbabwe squad failed to travel to Bangladesh as per their original schedule and as of yesterday authorities were still running around to secure tickets for the trip.
By evening yesterday expectation was that the team would travel today although flight arrangements had not been finalised.
Zimbabwe will plan a warm-up game against a Bangladesh Xl side on Saturday ahead of their first match of the series against Bangaldesh on Monday.
As part of their preparations, Zimbabwe roped in Englishman Chris Brown as a spin bowling consultant.
Meanwhile, Sri Lanka yesterday named their 16-man squad for the series and also reappointed Angelo Mathews as the limited-overs captain.
Despite having been brutalised by South Africa in their one-off Test match in Port Elizabeth recently, Zimbabwe will approach the tri-series with confidence considering that they won their one-day international series (ODI) against Sri Lanka away from home last year.
They have struggled against Bangladesh in recent years, but there was an improvement in their last ODI series where they lost 3-2.