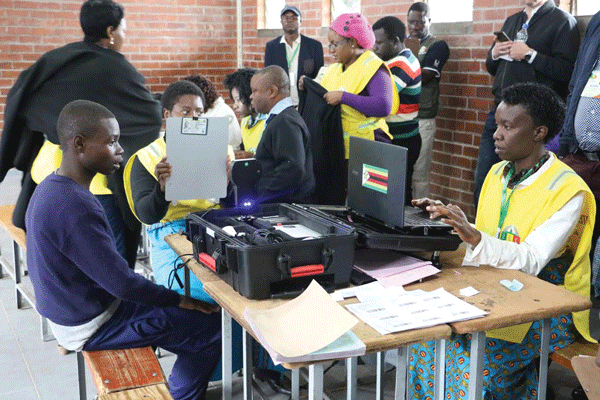 POLITICAL parties have expressed concern over the reduction of biometric voter registration (BVR) centres during the extended voter registration exercise, which starts tomorrow and ends on February 8.
BY NQOBANI NDLOVU
Speaking at a meeting organised by the Zimbabwe Electoral Commission (Zec) in Bulawayo on Friday, representatives of political parties said a lot of potential voters, particularly
so-called aliens, might fail to register to vote because of the reduced number of registration centres.
Zec allocated only six voter registration machines to each province, as compared to 110 machines, which were provided during the initial voter registration phases.
"The alien citizens will not have a fair and adequate time to exercise their rights since they got the waiver towards the end of the fourth phase. This is a great concern to us because most of these people will not have adequate time to sort out their documents. Again, Zec seems stingy with information pertaining to this exercise," Economic Reform Assembly president, Amos Dangwa said at the meeting.
Dangwa also expressed concern to Zec over the few registration kits allocated to Bulawayo during the previous exercise. Bulawayo got the least registration kits of 110, while Midlands province was allocated the highest, 353.
"I think you were not fair to Bulawayo. The reason why Bulawayo has got the least voter registration figures is because the province had very few registration centres as compared to other provinces. I think this is unfair," he said.
An MDC–T representative also echoed Dangwa's sentiments.
"Six machines will not be adequate to cover the whole of Bulawayo in a month. I think Bulawayo deserves more registration centres because the city has a lot of aliens, who might want to vote following the recent ruling that they are entitled to voting," the official said.
The official also urged Zec to discard the proof of residence requirement, saying the practice was disenfranchising a lot of potential voters.
Political parties and rights groups have been calling on Zec to scrap the proof of residence requirement, saying it disenfranchises would-be registrants, particularly women and tenants.
"The current Zec-recognised commissioners of oaths are overwhelmed with work because they are few and are volunteers. Most of the time, they will be busy. Zec should simply do away with this requirement" the official said.
Zec commissioner, Sibongile Ndlovu said Bulawayo risks losing constituencies if the majority of the residents continue to shun the voter registration exercise.