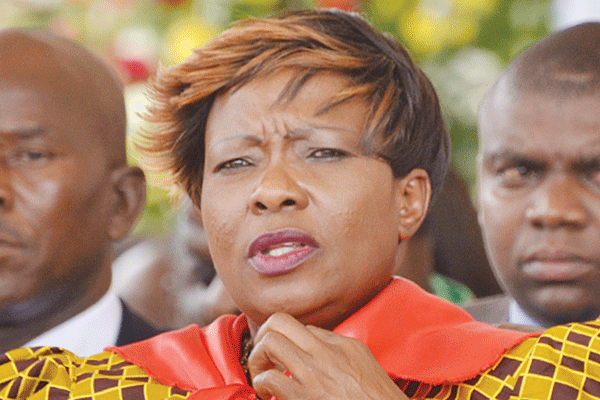 Moved by the continued destruction of wetlands, residents of Harare have made a passionate appeal to First Lady Auxillia Mnangagwa to intervene and stop the continued depletion of the water sources.
By Edgar Gweshe
Wetlands are the major source of water for Harare after run off, but they are under threat from urban cultivation and construction.
The Zimbabwe National Water Authority (Zinwa) has already raised the red flag, saying due to the destruction of wetlands in Harare, the water table has drastically gone down and the situation could worsen if action to save the water sources is not taken.
Mnangagwa, who is also the Zanu PF secretary for environment and tourism, is on record encouraging preservation of wetlands and she has expressed concern over rampant destruction of wetlands in Harare and other areas.
In separate interviews, residents who are part of Local Environment Action Plans (Leap) committees said major factors leading to the continued destruction of wetlands in Harare include corruption, abuse of power as well as failure or lack of will to implement the law.
A member of the Dzivarasekwa Leap committee Alice Kasinamunda said efforts to preserve wetlands in their area were being met with stiff resistance by individuals claiming to have authority.
"We have made several efforts to educate people on the importance of wetlands and just when we thought people were appreciating their [wetlands] value, some individuals started construction projects which pose a threat to the survival of the wetlands. The major problem is that some of these individuals claim to be powerful and this limits our ability to protect our environment.
"But we understand that the First Lady is passionate about protection of the environment and we would like to call upon her to intervene and compliment our efforts in protecting the environment," Kasinamunda said.
In Kambuzuma, residents have gone a gear up and have taken the legal route to stop the construction of a fuel station on a wetland located at stand number 2907, Section 2, Kambuzuma Township.
The residents are livid that the Environmental Management Agency (EMA) approved an environmental impact assessment (EIA) certificate on a wetland which is supposed to be preserved in its natural state.
Despite EMA claiming to have consulted residents before approving the EIA, the residents, who have also appealed to Environment, Water and Climate minister said no such consultations were made.
In Epworth, residents have attributed the destruction of wetlands to the fact that land has become a campaign tool being used by politicians to gain political mileage.
"The situation in our area is quite a serious one and if it is not attended to as a matter of urgency, there will be no wetlands to talk about. We appreciate the efforts being made by the First Lady but at the same time, we think it's high time we walk the talk on wetlands preservation. Wetlands are water sources and their preservation must be prioritised," said a resident, Henry Kane.
The Harare Wetlands Trust has launched an ambitious project aimed at mobilising communities to be actively involved in the protection of wetlands within their areas. The project covers both high-density and low-density areas.
The trust is currently battling to save wetlands in Ashbrittle, Glen Lorne, Mabvuku, Tafara, Budiriro, Eastlea, Borrowdale and Hillside among other areas.
Highlands residents have also expressed concern over the continued allocation of wetlands for construction purposes by the Harare City Council. The residents have written several letters of objection to the Harare City Council but their efforts have so far failed to bear fruit.
The residents said there is need for urgent intervention to save wetlands.
Said a resident, Lorna McCosh: "We are concerned that the City of Harare is selling off wetlands to private developers and, currently we are objecting the proposed development of Lot 13, Highlands, which is a wetland. We need to preserve what is left of our wetlands. The water table in Harare is already low yet we continue to tamper with our wetlands."
The destruction of wetlands in Harare is despite the fact that council's environmental management committee chairperson Herbert Gomba is on record saying it is not council's policy to approve construction on wetlands.
Zimbabwe is signatory to the Ramsar Convention on the protection of wetlands.
Under the country's Constitution, wetlands are protected under the Environmental Management Act.