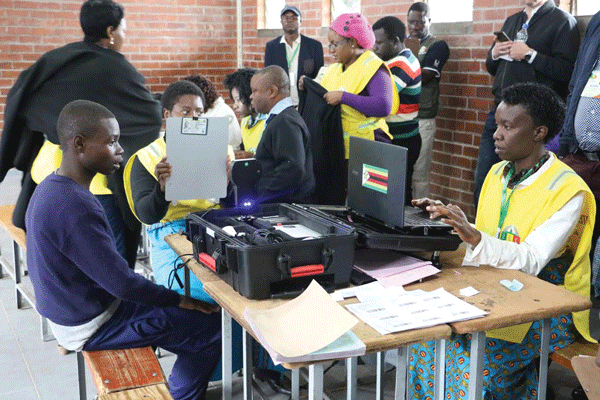 EACH given electoral event in Zimbabwe is usually accompanied by actors showing an insatiable desire to manipulate the obtaining electoral processes and associated legal and administrative systems which conditions electoral outcomes in their favour.
By Jack Zaba
As the nation gravitates towards the July/August 2018 elections, already merchants of electoral manipulation have widely targeted voter registration certificates issued upon registration during the ongoing biometric voter registration exercise.
Reports from ordinary citizens, political parties and civic society are instructive of a widespread practice of alleged Zanu PF supporters and traditional leaders who are demanding serial numbers from registered voters.
In an audio clip which I listened to recently, a known traditional leader in Mutasa district was questioned by Mutasa Central legislator, Trevor Saruwaka, about this practice.
The village head acceded to the practice of demanding such registration certificates, but was non-committal to explain the purpose of such an exercise.
The abuse of voter registration certificates as tools for manipulation endures in our electoral landscape.
In previous elections, voter registration certificates were infamously used to allow ineligible persons to participate as voters.
Some of the sitting Members of Parliament owe their incumbency to the "legend of the voter registration slip" in 2013 which worked wonders to inflate voter turnout.
With the 2018 polls a few months ahead, there appears to be a new game in town, but similarly reliant on abuse of the voter registration slip.
The demand for serial numbers on voter registration certificates continues to baffle a number of electoral stakeholders, especially in realising that the certificate in question is as good as a till slip from a supermarket.
The Zimbabwe Electoral Commission (Zec) designed that certificate to act as proof that one has registered as a voter and can only be of use at inspection of the voters roll, particularly when one's name is missing or incorrectly captured. This certificate shall in NO WAY be useful on polling day.
So the big question is, of what use are the serial numbers and voter registration certificates to the purveyors of such electoral vices?
It must be clear and very clear that the only dividends realisable from the exercise of capturing serial numbers simply relate to conditioning the political environment to one that keeps a voter perpetually under siege until polling day.
The captured voter will remain fearful of losing limb or handouts often associated with the campaign period.
In some areas, farming inputs and indeed food aid are distributed to those who would have submitted their serial numbers.
It's simply an act of intimidation which is designed to coerce voters into paying allegiance to a particular political formation.
Perhaps these serial numbers could be of use to the concerned political party to measure active voters within a given electoral district which assists in designing responsive strategies to mobilise for support for their candidates.
As this theatre of electoral manipulation unfolds, it becomes compelling for electoral stakeholders to understand that what used to be viewed as "rigging" seldom happens inside polling stations like in the past, instead manipulative practices are deployed across the electoral cycle with dividends being reaped as results are announced.
The situation is even more complex for observers to discern as it often happens under the surface far from the purview of trained citizen observers, let alone international observers who usually deploy after the damage would have been done.
Unscrupulous political actors now invest more money and brains on threatening the security of the voter and the security of the vote itself several months before polling day.
Such voters will only troop to polling stations to vote, but without a choice.
Typical North Korea style.
The prospect of a fouled political environment ahead of the polls is real and will certainly escalate in different forms and style.
While basic mechanisms of dealing with political violence and intimidatory practices are contained in the Electoral Act, its practice and functionality remain hugely questionable. Perpetrators and guilty actors face no tangible sanctions after their transgressions.
Zec is mandated under Section 156(c) of the Constitution of Zimbabwe to ensure that appropriate systems and mechanisms are put in place to eliminate electoral violence and other electoral malpractices.
Evidently, the current mechanisms are failing dismally to eliminate intimidation and violence.
The fact that Zec has not opted to conduct a review of current mechanisms and propose new measures to curb politically motivated violence ahead of 2018 dents confidence levels on the commission.
Additionally, in its voter education programmes Zec lacks the dexterity to address behaviours and practices by political actors which exterminate the freedom of choice within the electorate.
Robust civic and voter education programmes must be conducted in communities to prepare voters so that they on their own can handle intimidation, violence and rampant misinformation or propaganda.
Citizens need to be informed of how some of these intimidatory practices are of no consequence if ignored.
We need voter education that emboldens the voter based on rights enshrined in the Constitution and the presence of a system of recourse which ensures justice to the electorate.
The abuse of voter registration certificates is only but one of the many ways dodgy political actors are using to subdue voters' choices ahead of the 2018 elections.
It is compelling for electoral stakeholders to amplify calls for strengthened mechanisms to curb intimidatory strategies and violent practices during elections.
Having the 2018 elections without guarantees to the security of both the voter and the vote will do harm to achieving the desired new dispensation which we all expected after the Mugabe era.
Jack Zaba is an elections expert who writes from Harare. You can contact him on zabajack09@gmail.com