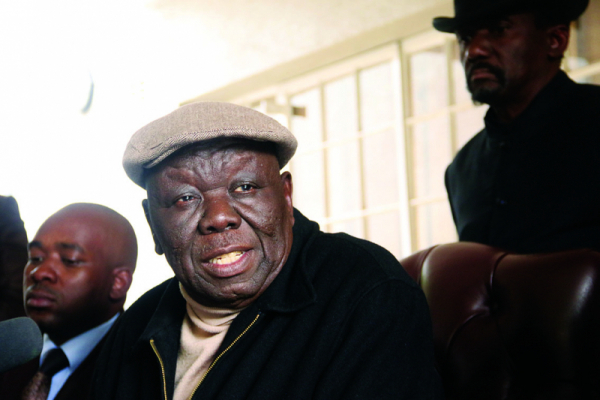 MDC-T leader Morgan Tsvangirai is reportedly battling for his life in South Africa, where he is receiving treatment, as his condition continues to deteriorate amid reports that his doctors have indicated the former Prime Minister has lost hope.
BY BLESSED MHLANGA
Close family members confirmed the development yesterday, saying his medical team had summoned his close relatives to South Africa to update them on his latest condition.
Other sources, who have been in contact with Tsvangirai and his family, said while the former Premier was alive and responding to treatment, his health continued to deteriorate.
"The president is alive, but his health has deteriorated from the time he left the country.
"He is not feeling well and everyone is worried about his health.
"I saw social media messages saying he is dead, that is not correct, he is still alive," the source said.
Tsvangirai's family is reported to be in South Africa after doctors reportedly sent an alert to them over his health.
Doctors have also reportedly stopped Tsvangirai from being moved to Germany, where his wife, Elizabeth, wanted him to meet an unnamed Zimbabwean prophet and attend two chemotherapy sessions.
"In a final bid to turn his health fortunes, Tsvangirai is set to fly out of South Africa anytime soon for healing in Germany, where he is reportedly set to meet a prophet.
"Elizabeth has since organised and received visas for the three-day trip for an undisclosed party delegation travelling with Tsvangirai to Germany and they have been granted their visas.
"The prophet in question is said to have prophesied that Tsvangirai is going to win the 2018 polls, beating Mnangagwa in a shock outcome," the source said.
A source in South Africa, said Tsvangirai was under close monitoring from his medical team and was not likely to be politically active.
This has left the MDC-T in limbo over its electoral candidate, less than five months from the general election.
A party member said he had spoken to the family yesterday morning and was told Tsvangirai was admitted in hospital.
"He is in hospital and he was supposed to have a teleconference with the party leadership today (yesterday).
"I am not sure if it went ahead, but that was the plan. Obviously people can't keep calling and checking if he is still alive," the source said.
The teleconference never happened, according to sources, who said the former Premier was in serious pain and unable to talk after a chemo session, which was both draining and painful.
Acting MDC-T president Elias Mudzuri refused to get into the details of Tsvangirai's health, saying it was social media rumours, which he described as false.
Tsvangirai's spokesperson Luke Tamborinyoka was not available for comment, as his number was unreachable.
The former Premier, who has contested against former President Robert Mugabe in three presidential elections, has been in and out of hospital since he announced he was battling cancer of the colon almost two years ago.
He last appeared in public at the inauguration of President Emmerson Mnangagwa last November and has not been running the party since then.