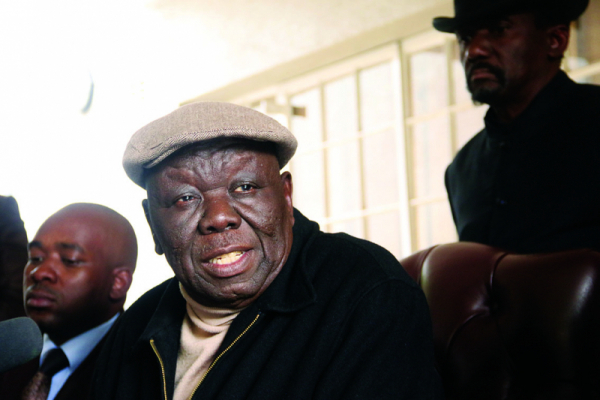 MDC-T leader, Morgan Tsvangirai could announce his retirement from politics, when he returns from South Africa, where he has gone for cancer treatment, amid indications that the opposition party has started consultations on who should succeed the former trade unionist.
BY OBEY MANAYITI
Tsvangirai yesterday issued a statement on handing over power to a "younger generation" fuelling speculation that his retirement was imminent.
The MDC-T leader, who is battling cancer of the colon, made the disclosure in his New Year's message released shortly after he left for South Africa for medical check-ups, amid concerns he may not be able to withstand the pressure of an election campaign.
"I am looking at the imminent prospects of us as the older generation leaving the levers of leadership to allow the younger generation to take forward this huge task that we started together so many years ago with our full blessing and support," he said.
This comes as Tsvangirai has been endorsed as the party and MDC Alliance's presidential candidate for this year's elections and his statement could trigger a new contest for power.
"It was, therefore, not by accident, but by design that when I disclosed to you my health status, I also took a bold step to appoint an additional two vice-presidents to assist me.
"As I have said before, while politicians only think about the next election, true statesmen think about the next generation, for current leaders are only but caretakers for future generations.
"We do not have any entitlement to lead, but we have a duty to serve," the former trade unionist, who has been at the helm of the MDC-T since its formation 18 years ago, said.
In June last year, Tsvangirai appointed Nelson Chamisa and Elias Mudzuri as his deputies to join Thokozani Khupe as vice-presidents.
"We ought to leave a lasting legacy, where the baton can be changed peacefully, in a tranquil and cordial atmosphere of unity and togetherness.
"At a personal level, I am using this New Year, not only to reflect on the onerous journey that we have travelled together, but also to peer with renewed hope into a bright future," he said.
Although Tsvangirai did not reveal when he intends to step down and how his successor will be selected, he emphasised on the need for people's blessings.
This comes amid calls for an extraordinary congress next month to elect the party's new leader.
"We must recognise the imperative that new hands, with the full blessing of the people, must take this struggle and this country forward with the destination remaining the same – a society that prides itself for not leaving anyone behind in their pursuit of freedom, prosperity and happiness.
"That is the only lasting legacy and precedence that we must leave to future generations," he said, adding he was in the middle of writing a book on his long and "torturous journey" from his days in trade unionism to opposition politics.
Last week, President Emmerson Mnangagwa visited Tsvangirai at his residence in Harare and pictures of the frail-looking MDC-T leader went viral on social media platforms, triggering debate on whether he had the stamina to continue in active politics and contest in this year's elections.
The MDC-T is already divided over Tsvangirai's candidature, with some top party officials canvassing for Chamisa to take over the party's leadership, although another camp is backing Mudzuri, describing him as more politically mature and stable.
Party supporters, particularly in Matabeleland and Midlands provinces, are pushing for Khupe to succeed Tsvangirai, as she is the only popularly elected MDC-T vice-president.
Turning to elections, Tsvangirai urged his supporters not to be blinded by former President Robert Mugabe's ouster, claiming the journey to rebuild Zimbabwe was still long.
He said the new administration led by Mnangagwa should articulate a clear and comprehensive roadmap to legitimacy that includes implementation of the much-needed reforms to ensure free, fair and credible elections.
Tsvangirai said he raised concerns of a clear roadmap to elections with Mnangagwa last week, when he made an impromptu gesture to check on him.
He described Mnangagwa's visit to his residence as the beginning of politics of tolerance in Zimbabwe.­