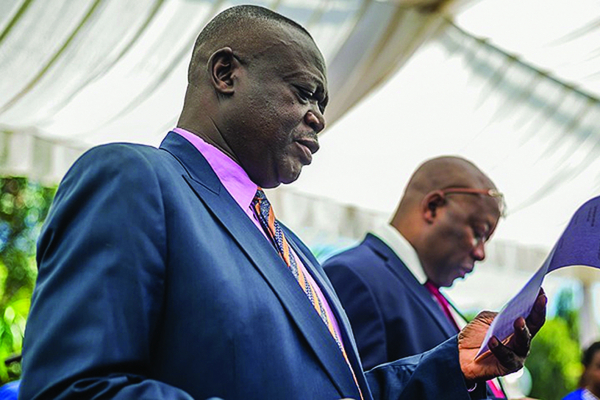 A TOP white Marondera farmer, Phillip Worswick, has said he is pinning his hopes on the government to restitute his land so he can resume operations after a huge chunk of his land was grabbed by new indigenous farmers in August last year.
BY JAIROS SAUNYAMA
Worswick, owner of Dormavale Farm, popularly known as KwaHozeki, was only left with 20 hectares after his arable 100ha was allocated to land seekers resulting in him stopping production.
The farm had been producing horticultural products ranging from peas to baby carrots and other vegetables for the past 40 years while also boasting a multi-million dollar state-of-the-art packing factory that also served surrounding farms. The factory has a holding capacity of 100 tonnes of horticultural produce.
Recently, Lands, Agriculture and Rural Resettlement minister Perrance Shiri visited the farm and promised to deal with Worswick's plight.
Worswick said: "We are happy that the responsible minister is aware of our plight. He has given assurance that this project will kick-start soon. So maybe, it is a matter of time before a decision is made. But the fact is that the minister, his deputy and the resident minister [David Musabayana] show seriousness on their part," he said.
A survey of the farm revealed the big packshade could soon turn into a white elephant as the farmer stopped horticultural activities following the farm invasion. However, some surrounding farms are currently using the factory to prepare products for both foreign and local markets.
At peak, Worswick exported 600 tonnes of different products annually earning the country millions of dollars in foreign currency. Before losing the land, he employed 300 workers.
"Farming doesn't need any disturbances. The 20ha I have is not enough for horticulture production as it is more rotational while at the same time growing different crops. If our case is resolved we intend to resume production by February. There are a lot of logistics to be done, for example, importing seed and engaging the markets, among other things," he said.
Apart from horticulture, Worswick is also a tobacco and maize farmer.
The Worswick family has been on the farm for more than 50 years. In 1997, they gave two of their other farms to the government for the resettlement programme.
Shiri described horticulture as a sleeping giant that could be used to turn around the economy.
Recently, a Rusape white farmer, Robert Smart, was given back his farm by the President Emmerson Mnangagwa-led government after he was violently ejected by Bishop Trevor Manhanga.