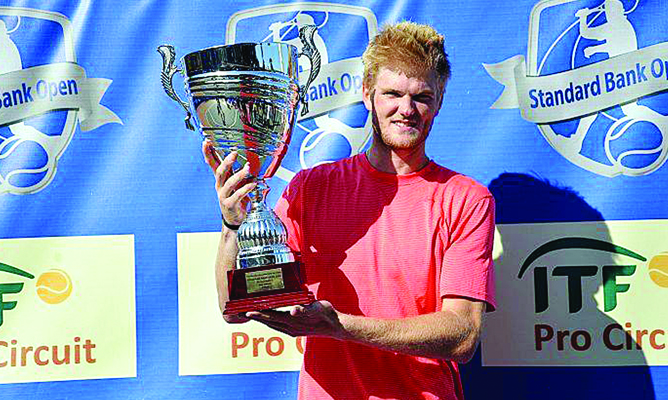 New Zimbabwe Davis Cup non-playing captain, Gwinyai Tongoona is lamenting the absence of United States-based top doubles player Courtney Lock ahead of a crucial first tie against Turkey this Saturday, as the tennis competition adopts a new format where all rubbers will be played over two days instead of the traditional three.
BY MUNYARADZI MADZOKERE
A two-day format and best-of-three-set matches will be put on trial with the Euro/Africa Zone Group II first-round ties to be played on Saturday and Sunday.
Two singles matches will be played on day one while the doubles match as well as two reverse singles matches on day two, thus putting to test the fitness of the top two players Benjamin Lock and Takanyi Garanganga, who are likely going to play all the matches.
Tongoona expressed desire to have Courtney, a brilliant doubles player, currently tied by college commitments, in the team to take the load off one of the top players.
"It (the new format) does put pressure on the team and if we had Courtney, a good doubles player, it would be better. But like I said, our top players are very fit, none is struggling with any injuries and we also have good young players as options," he told Newsday Sport.
Courtney, studying at the University of Nevada, Las Vegas, will be engaged in collegiate tennis the same weekend as the Davis Cup tie.
However, Tongoona believes the team will find answers to overcome their highly-fancied opponents whose five-member squad jetted into the country on Monday.
"It's looking good for us because we have been working hard in morning and afternoon sessions. Everybody is ready to give 100% and we are looking forward to a big crowd to come and support the team," Tongoona said.
Benjamin is the country's number one player, followed by Garanganga while Mark Chigaazira and Mehluli Sibanda complete the team Turkey have brought in Cem Ilkel, their top player ranked 260 in singles, Altug Celikbilek, Anil Yuksel and Sarp Agabigun with Tuna Altuna as the captain.
Tennis Zimbabwe has completed the refurbishment of the venue, Harare Sports, Club increasing the seating capacity.
There has also been an overwhelming response by the corporate community to support the team with Auto World through their Isuzu brand, Hunyani, Treger, Zuva Petrolium, Stanbic Bank, BSI Steel and Victoria Falls Safari Lodge coming on board.
The official draw will be conducted on Friday morning at 10am at the match venue.