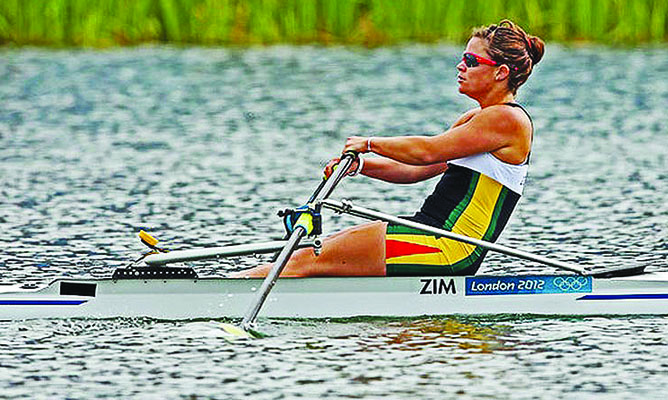 History beckons for two-time Zimbabwe rowing Olympian, Micheen Thornycroft after she made it among the five finalists nominated for the prestigious 2017 Filippi Spirit Award.
BY MUNYARADZI MADZOKERE
Thornycroft could become the first African to win the top rowing award, but will have to contend with two other African candidates, Rain de Jager and Mzwandile Sotsaka from South Africa, for the historic feat.
Vladimir Gluhovic (Serbia) and Seun Olusanya (Great Britain) complete the shortlist for honours, formerly known as the Parmigiani Spirit Award.
Sponsored by rowing boat manufacturer, Filippi Lido SRL based in Donoratico, Italy, the Filippi Spirit Award, inaugurated in 2013, is the only international award open to university rowers worldwide and honours those who have demonstrated the core values of rowing in their social, academic and sporting life. It also recognises rowers, who have enabled and inspired success in other people's lives.
Thornycroft is the only finalist with Olympic Games experience after representing Zimbabwe at the London Olympics in 2012, as well as the Rio Olympics two years ago. The athlete, who retired from full-time training after the Rio Games, is currently studying at Rhodes University in South Africa and looking to graduate in 2019 with a Master's degree in human kinetics and ergonomics.
At the Rhodes University Rowing Club, Thornycroft coaches, mentors and inspires younger women.
She has been involved in a number outreach projects including the RowZambezi project and last year, the rower coached the Zimbabwe junior team at the 2017 African Rowing Championships in Tunis, making her serious contender for the Filippi Spirit Award.
De Jager is captain of the Wits University Boat Club in Johannesburg, where she is studying occupational therapy and chemistry, while Sotsaka in studying mathematics at the University of Johannesburg. Sotsaka came from an impoverished background and has worked as a rowing coach to pay for his living expenses, while studying. He is also training to make the South African national team.
A panel of judges consisting of World Rowing Federation president, Jean-Christophe Rolland, Olympic champion, Mahe Drysdale from New Zealand, Lenka Dienstbach-Wech, a German Olympic and world champion, Filippi Lido and SRL chief executive, David Filippi will decide the winner, to be announced next month.
Parmigiani Spirit Award previous winners (2013 – 2015)
2013: James Cook (Britain)
2014: Franz Gravenhourst (Germany)
2015: Kirsten Van Fossen (US)
2016: Nils Jakob Hoff (Norway)