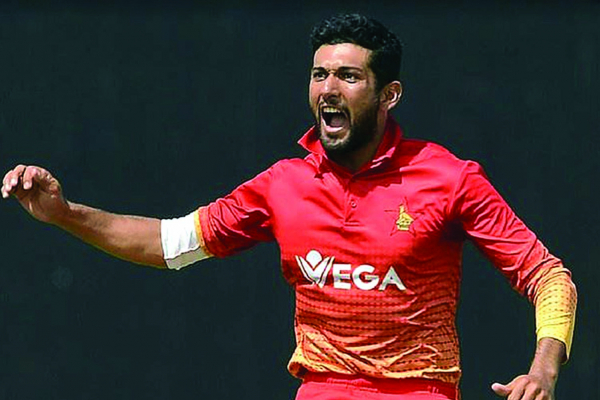 DHAKA — In the 40th over of Sri Lanka's chase on Wednesday, Thisara Perera smacked Zimbabwe captain Graeme Cremer for 17 runs. Sri Lanka suddenly needed to score at less than six an over to win the one-day international (ODI) cricket game, and for the first time, the situation was under their control.
Cricinfo
In the next over, Sikandar Raza gave away only three runs, breaking Perera's flow and making him wait until the 45th over to find his next big hit.
After landing one deep into the midwicket stands, Perera went for another big hit but mistimed it towards midwicket. Raza came running in, dived forward, and completed a difficult catch. A crucial catch. Zimbabwe knew they had unlocked the final door. A win over a major team in a neutral venue, after 15 years, was in their grasp. They didn't let go, and Tendai Chatara did the needful in the 49th over.
"The plan was to drag the game as far as possible," Raza said. "It is a matter of who panics first. Thisara was making it look exceptionally easy. He was also here for a BPL-winning side; he is a world-class performer. When the game gets smaller, he can take it away from you very quickly. He did that today as well.
"Fortunately for us, he mistimed one and we managed to take that catch. We always knew that this game wasn't going into the last over so once we had that wicket, we just wanted to drive the last nail in the coffin."
Raza was in the thick of things for most of the 98.1 overs of this contest. At one point, it was hard for the TV cameras to peel away from him. Apart from Perera's catch, he took another at short midwicket to get rid of Angelo Mathews to give Blessing Muzarabani his maiden ODI wicket.
Raza also removed Kusal Perera, batting on 80, when it looked like he was about to make the 291-run chase a comfortable one for Sri Lanka. Zimbabwe had set this competitive target thanks, again, to Raza, who scored an unbeaten 81, with many of his boundaries coming in the slog overs.
It was yet another instance of Raza putting in important contributions for Zimbabwe when it mattered most in a contest. He said that much of his confidence was down to the selectors' faith in him and most of his teammates.
"I think consistency in selection definitely helped," he said.
"I think we have gone with the same squad for a lot of series and that is certainly showing up. When you have a guy next to you in the change room for a longer period of time, it gives you that extra confidence.
"You can call what the shots the batsman is going to be playing; this is the trust we have among ourselves. This team is a band of brothers and we have been playing together for a long time. We back each other regardless of the situation. We back each other to defend 120."
Raza said the selection consistency had fed into the team's mindset as well, and that they were now determined to go into the World Cup qualifiers, to be held in March and April in Zimbabwe, with a message for the rest of the teams in that competition.
"The secret behind [Zimbabwe's recent upturn] is the trust, character, faith among ourselves," he said.
"We are determined to go into the World Cup qualifiers with a strong message we want to send out to all the teams." —