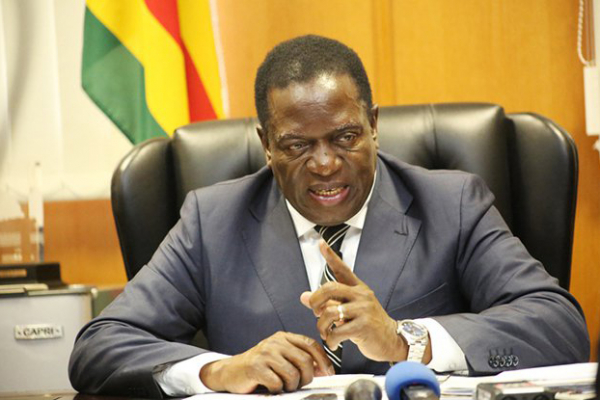 PRESIDENT Emmerson Mnangagwa has fired principal director of State residences, Innocent Dzapasi Tizora, amid reports that more heads will roll within his office as the purge of former President Robert Mugabe's aides continues.
BY BLESSED MHLANGA
Local Government minister July Moyo disclosed at the weekend that Tizora had been replaced by Zanu PF Midlands central committee member Douglas Tapfuma, who assumed his new duties yesterday.
"With us, we have the just appointed, he is still brand new, the senior principal director, State House in the President's Office," Moyo said, as he introduced Tapfuma during the installation of Chief Samuel Samambwa in Zhombe on Saturday.
Tapfuma, a former Zanu PF provincial administrator, was promoted to principal director in the Office of then Vice-President Mnangagwa in 2014.
Sources said Tizora, who is related to former President Robert Mugabe, could have been flushed out owing to his dabbling in Zanu PF factional politics.
"He (Tizora) was central in fanning factionalism in the party and was such a divisive character who peddled gossip and harboured his own plans to even become president of the party. His axing was long overdue," a source close to Mnangagwa said.
During his tenure and at the height of the factional fights, Tizora was accused of paying people to fight Mnangagwa and cause a rift within the party.
Tizora was not immediately available for comment yesterday.
Mnangagwa has made several sweeping changes, dropping most of Mugabe's top aides, since his inauguration in November last year. His axe is also set to hit the Central Intelligence Organisation after it claimed several scalps in the Zimbabwe Republic Police last week.
Sources, however, said Mnangagwa was unlikely to fire his "home boy" Chief Secretary in the Office of the President, Misheck Sibanda, or move out presidential spokesperson George Charamba — who were both instrumental in his ascendancy to the President's post.
"The changes are not rapid because he does not want to cause panic or disrupt the flow of government business. The President has a plan which will see him integrate some people from the old staff and replace others with his own team," the source added.