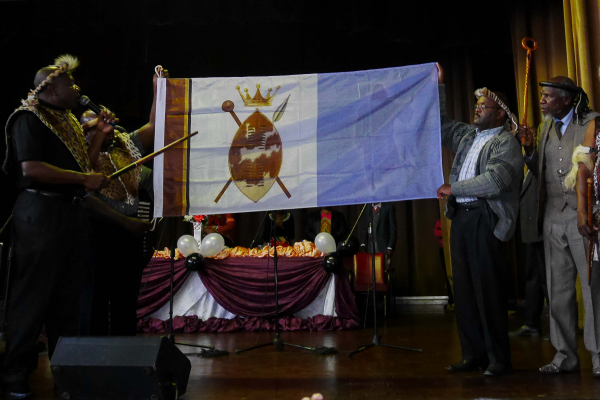 SELF-APPOINTED Ndebele king, Stanley Raphael Khumalo last week reportedly despatched an envoy to South Africa to meet Zulu king, Goodwill Zwelithini, ahead of the latter's anticipated visit to the country "in a few weeks".
By NQOBANI NDLOVU
Khumalo's spokesperson, Greater Sibanda confirmed the development at the weekend.
"All is on course, and our delegation is already there in South Africa led by the king's chief of staff, Mqobi Ngwenya. They went on Monday, so everything is on course and they will give us feedback on when Zwelithini's representatives will be coming to Bulawayo," he said.
Khumalo, also known as Mzilikazi II, declared himself as the new Ndebele king in June last year before unveiling a new Mthwakazi flag.
Zwelithini's representative Thulani Zulu was expected in Zimbabwe last week to meet Khumalo in what could have been a major boost to the latter, who has been received with scepticism, but the trip had to be postponed as it coincided with some cultural commemorations in South Africa.
"Zwelithini's representatives could not make it last week because of the Battle of Isandlawana commemorations. It gives us great pleasure that Zwelithini has expressed interest to meet our king, it makes us proud that, finally, those who matter, realise that the revival of the Ndebele Kingdom is a just cause."
The Battle of Isandlwana commemorations are held annually in South Africa to honour the warriors who fought and won decisively protecting the Zulu Kingdom from a British invasion in January 1879.
Khumalo, last year, embarked on a "king meets the people tour" throughout Matabeleland provinces.
Khumalo's actions to declare himself Ndebele king have divided opinion in Matabeleland, with some secessionists supporting him, while descendants of the Lobengula family have dismissed him as an impostor.
The Khumalo clan has said there is already an agreed successor. A faction of the Khumalos last year announced South Africa-based Bulelani Collin Khumalo as the heir.
Lobengula was the last king after a British Pioneer Column led by Cecil John Rhodes conquered the Ndebele kingdom in 1983.