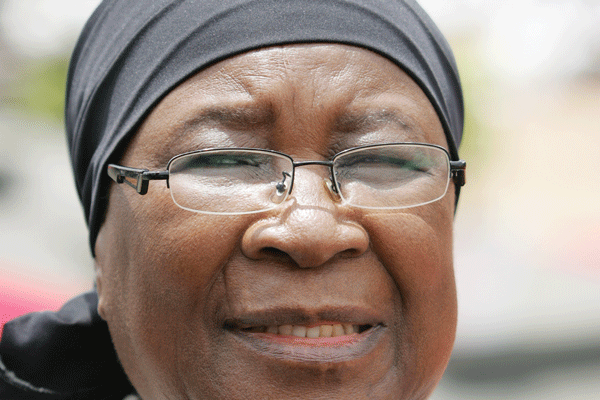 FORMER Bulawayo Provincial Affairs minister Eunice Sandi Moyo was yesterday fired from Parliament, bringing to 12 the number of MPs recalled by Zanu PF in the past two weeks over their alleged links to the G40 faction.
by VENERANDA LANGA
Speaker of the National Assembly Jacob Mudenda read the letter from Zanu PF notifying Parliament that Moyo was no longer an MP in line with section 129 (1) (k) of the Constitution.
"I do hereby inform the House that a proportional representation vacancy has arisen by operation of the law and the necessary administrative measures will be taken to inform the President and the Zimbabwe Electoral Commission of the existence of the vacancy in line with section 39 (1) of the Electoral Act as amended," he said.
Meanwhile, Health Portfolio Committee chairperson Ruth Labode said Health minister David Parirenyatwa has been asked to issue an urgent ministerial statement today on the cholera situation in the country.
Chegutu West MP Dexter Nduna asked Mudenda to ensure Parirenyatwa attends Parliament to issue the statement detailing interventions in combating cholera.
"Cholera has hit my constituency, Chegutu, where three people have died and 39 are undergoing treatment. We are aware that everybody in Zimbabwe at one point passes through Chegutu, and if this is not curtailed immediately, it is going to end up with other towns infested," Nduna said.
Goromonzi West legislator Biata Nyamupinga said the statement should include disaggregated data detailing how many children, women and men are affected as women end up contracting the disease through care giving.
In an unrelated matter, Zanu PF Proportional Representation legislator Melody Dziva gave notice on behalf of First Lady Auxillia Mnangagwa that she will move a motion on children's rights, which will call on government to ensure all children acquire birth certificates.
The motion, which will be seconded by MDC legislator Jasmine Toffa, also calls on the Justice ministry to urgently bring amendments to the Registration Act regarding adoption of children and acquisition of birth certificates.
The First Lady's motion will also seek to call upon government to urgently amend the Registrations Act relating to adoption of children and acquisition of birth certificates, and timeous disbursements of money to children's homes, among other children's rights issues.