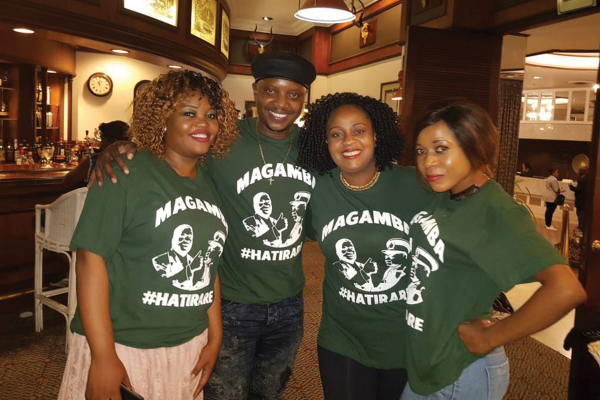 FASHION designer and businessman, James Pande has unveiled two trendy fashion labels — Kutonga Kwaro Gamba and Magamba #Hatirare in honour of President Emmerson Mnangagwa and all stakeholders in "Operation Restore Legacy", which saw the dethroning of former head of state Robert Mugabe. BY ALBERT MASAKA
Pande told NewsDay that the labels were also in recognition of Vice-President Constantino Chiwenga and all Zimbabweans who threw their weight behind the campaign to remove Mugabe from power.
"Kutonga Kwaro Gamba is one label, although I designed in two parts, this was inspired by the rise to the presidency by Comrade Mnangagwa and motivated by the hit song, Kutonga Kwaro by Jah Prayzah," he said.
"We also have Magamba #Hatirare, which we launched a day before Mnangagwa's inauguration."
The Zimbabwe Entrepreneurs Youth Action (Zeya) president also said it was ironic that when he was born, his grandfather gave him a second name — Gamba.
"But when I was growing up, the name irritated me a lot because I didn't know its meaning I thought it meant chigamba chehembe (a patch sewn into a torn clothing item). I used to fight if someone called me Gamba," he recalled.
In 2016, Pande launched a range of trendy products under the RGM92 label, including the Hovhorosi style, featuring the then 92-year-old Mugabe's initials and age as a tribute to the former head of state and described him as his hero.
He told NewsDay that Mugabe's inglorious exit from power was unfortunate.
"Former President Robert Gabriel Mugabe's history cannot be erased," he said. "He played a big role in the liberation struggle and after independence in empowering the black majority through education and giving land to the people, but it's unfortunate he had to go that way because he didn't know when to stop and pass the baton."
Pande set up a youth taskforce to fight corruption code-named #Hatirare after the youth had realised that their empowerment could be derailed by corrupt officials that held positions of influence.