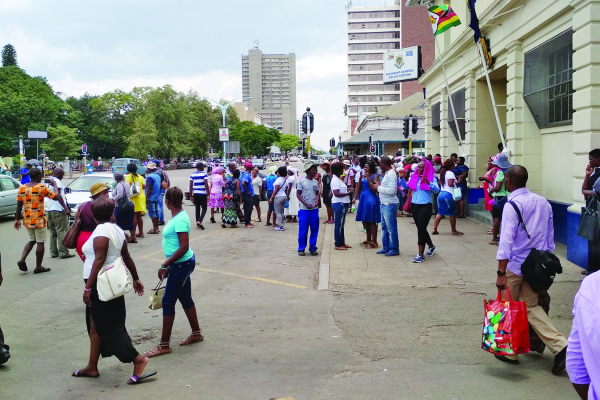 SCORES of illegal foreign currency dealers, popularly known as osiphatheleni, yesterday stormed Bulawayo Central Police Station protesting the alleged release of criminals who rob them of their hard-earned cash after hours.
BY SILAS NKALA
The angry protesters claimed that some police officers seemed to be colluding with the criminals.
They said each time they made a report and the suspects got arrested, but before sunset, they would be released.
The protesters said these criminals targeted them again after their release from police cells.
They also complained that most of the criminals, whom they have positively identified and handed over to the police, had never stood trial.
"It is not right that we work hard every day and after a daylong of hard work, someone comes and robs us. These people get arrested and after that, they give police officers money to get released. This is the only way we can live. There are no jobs, we are trying to survive," one woman said.
The angry illegal money traders said one robber who attacked their colleague on Monday and got arrested was seen in town yesterday.
This angered the dealers, who then mobilised and descended on the police station to register their displeasure.
"Where have you seen that someone gets arrested for robbing people and before we know it, he is released without charge and they claim he was wrongly identified?" a female protester said.
"The criminal has been released and he is gone. We cannot take it anymore. This is a new dispensation. These police officers must give us uniforms and get out of the station, they do not know how to do their work."
The protesters said they hoped the Zimbabwe Defence Forces would deal with criminals as police were compromised.
"People from this place (police station) are criminals and work with criminals. They take us for granted," a male protester said.
"Corruption, corruption, corruption! Down with corruption! Tajamuka, we no longer tolerate this," another male protester said.
Contacted for comment, Bulawayo police spokesperson Inspector Precious Simango said she had not yet received information from the station about the protest and promised to find out what had happened.