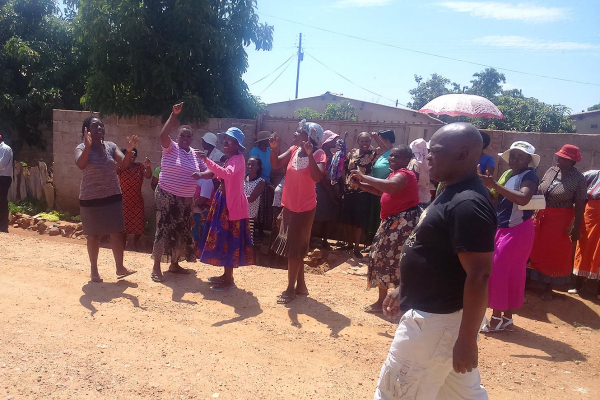 A BULAWAYO Messenger of Court was yesterday forced to make a hasty retreat after Nketa 9 residents blocked him from evicting a 72-year-old woman, Evelyn Phiri, from a disputed property.
BY TALENT GUMPO/ ALEXIS SIBANDA
The house is believed to have been fraudulently sold by one Ncube to several people, including Phiri's son. The elderly woman claimed her son had bought the property for her.
When Phiri's neighbours spotted the Messenger of Court's truck, they allegedly gathered at the property and blocked the court officials from entering the premises.
Phiri said a woman only identified as Duduzile ordered her to leave the house and threatened to throw her out if she did not comply.
"My son who works in South Africa bought me this house in 2007. We were made to believe that it was a complete house when we bought it, but when we got here, we discovered it was just a slab. Ncube, who sold us this house said he would build the house, but he did not. My son volunteered to build the house, and told the contractor to reimburse us, but up to now, I have not received a single cent from him," she said.
"Ncube has sold this house to two other people. I paid $45 million in 2007 for the property. I was taken to court when I refused to leave the house, but the matter is yet to go back to the High Court."
Eyewitnesses said neighbours decided to intervene and fight in Phiri's corner, after realising the psychological trauma she was going through over the matter.
George Mhlanga, speaking on behalf of the residents, said: "We cannot allow criminals to continue to swindle people of their money. How does one person own over five houses? Ncube even owns a car park near Emagetsini. Where does he expect Phiri to go if she is evicted from her house?"
Mhlanga said residents were expecting a letter from the courts telling them when the attached property would be returned. "Go back to the courts and tell them that the residents barred you from taking the rest of the property, the case is still pending and must be taken back to court. For now, you must leave the premises," Mhlanga said.
Residents vowed to camp at Phiri's house to prevent the Messenger of Court from evicting her.
"We saw Phiri building this house after she had been conned. Up to now, Ncube has not paid her. We cannot stand and watch people ill-treat a senior citizen just because she has no one to speak for her, we will spend the day here, we are not going anywhere," Smangele Ndlovu said.
"You better take us with you, Phiri's furniture is not going anywhere," she said.
Contacted for comment, Ncube dismissed the allegations, saying he and Phiri had bought the house together from a woman identified as Bertha Maunganidze and that he was entitled to sell the property, claiming he had shares in the house.
"We bought the house together from Maunganidze so she (Bertha) must be the one to answer why she sold the house to two people.
Bertha is the one who practised the so-called fraud, not me. In any case, where is the paperwork proving that I sold the house to Phiri?" Ncube asked.
"This is a long story and it really needs time, but Bertha must be answerable for that."