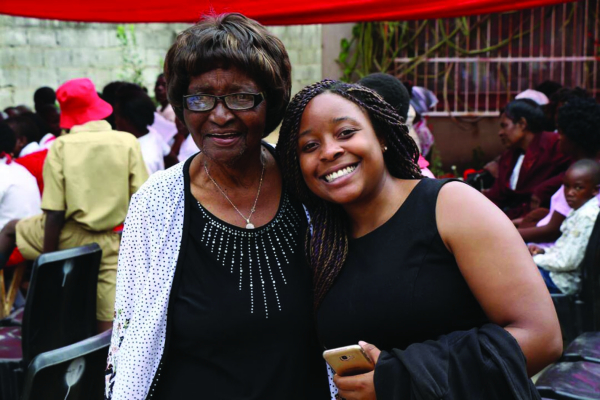 WHEN Good Beginning College Form 1 student Amanda Nduna stood to recite her poem titled Knowledge with eloquence and a commanding voice projection, she drew attention from everyone present.
BY KENNEDY NYAVAYA
It was the Epworth-located school's first ever end of year prize-giving ceremony last month where academic geniuses as well as vocational learning students received honours for remarkable performances during the year courtesy of Precious Stones Foundation, a non-governmental organisation.
Although shortlived, Nduna's splendid showcase stunned a significant part of the audience, including Tryphine Nguni (92), the founder of the school.
"I have seen this school help so many people since I started it in 2009 with about 200 students and some of them now are in university," she told NewsDay Weekender.
Epworth has less than 10 government primary and secondary schools, with some students having to walk long distances to access public institutions of learning.
Sprouting private colleges like Gogo Nguni's officially-registered institution, housed at her 12-roomed house in the Overspill section, are the alternative solace for most.
"When my husband passed away I started wondering if I really could live alone, idle in such a big house and it did not make sense," Nguni said, who in the early 2000s turned the place into a nursery school, charging stipends just to keep toddlers off the dusty streets.
A trained designer, caterer and carpenter among other vocational skills the multi-talented nonagenarian has spread her tentacles into personally teaching women in the area.
"Through talking to other women in society I saw that they were sitting in their homes with nothing to do so that is what made me think why can I not turn my home into a space of skills learning," she explained.
She turned the place into a centre for vocational skills training currently impacting the lives of under privileged women and school going children.
However, over the past years her benevolence has been sabotaged by some qualified teachers she employs to assist her on the academic wing.
"The problems I face are age-related. Some teachers I employed would go around classes telling children that the school is closing down so they could start their own centres with my students," she lamented.
Current Good Beginning College principal, Forward Mapiye, concurred, saying since he started work last March there has been an exodus of teachers.
"It has been a norm at this institution that they take advantage of Gogo, but it is really affecting the school to the extent that the community can no longer trust the institution as they wonder if teachers will stay," Mapiye said.
Nguni, however, has remained unshaken and is considering expansion. She said she believed that with a little more assistance, she could impart knowledge to more women and their children for way less than they can pay at mainstream institutions.
Her school was recently "adopted" by cleric, Rutendo Wutawunashe, who is on a mission to assist financially-unstable women acquire life sustaining skills while their children also attend school on full scholarship through her organisation, Precious Stones Foundation.
"Our plan is to reach more communities with low income backgrounds targeting women who in most cases are sidelined and forced into immoral means of survival including prostitution," Precious Stones representative Rumbidzo Gunduza said.
According to Gunduza, Wutawunashe who is paying all tuition fees for more than half the students felt compelled to register the trust to extend a helping hand beyond the confines of her church.
"She saw how most women were selling themselves as prostitute just for them to get some form of income so she was touched and decided to widen this program into different communities," Gunduza said.
"So far there has been tangible change that you can see from people that are benefiting from these practical teachings of how to be productive using the least resources available."
Epworth is plagued by unconventional means of survival as the impoverished seek to eke out a living by all means possible.
"To a greater extent we have seen the impact of her (Wutawunashe) coming in because students she is paying for are now attending class consistently without unnecessary absenteeism which was a huge challenge before," Mapiye explained.
He added that the scholarship also accords a chance to some students who had failed and given up in the past to try again while lauding the feeding programme for those under the bursary.
With fewer freebies in sight and a rapidly growing population, education appears to be the only ticket out of poverty in this peri-urban settlement.
Nguni's niece, Tryphine Nyahunzvi, said considering her advanced age, they have made several futile attempts to dissuade her from the taxing schedule, but "she is ready to fight to protect the projects."
Nyahunzvi said during hard economic times, Nguni still bankrolled her project.
"She would ask for money to buy food and instead of her to do so she would give her teachers because they were running away taking advantage of her age to go with her students," she said.
With a side tree planting project to help sustain her college, Nguni will stop at nothing to see Epworth transformed as long as she breathes.
"My contribution to the community is an effort to make sure that people manage to empower themselves by putting to practice what they have learned," Nguni said.