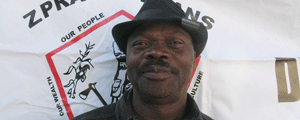 ZIPRA Veterans' Association leaders have resolved to lobby their counterparts in the Zanu PF-aligned Zimbabwe National Liberation War Veterans' Association (ZNLWVA) to form a new all-embracing, non-partisan war veterans' body to end polarisation between the two former fighters' associations.
BY SILAS NKALA
Zipra Veterans' Association spokesperson Buster Magwizi said the decision was part of a position paper they prepared on Sunday, which would be submitted to President Emmerson Mnangagwa.
Other resolutions include a demand for return of Zapu's properties seized from Nitram Investments by the government at the height of the Gukurahundi era, and a general improvement in its members' welfare
"We understand a Zanla War Veterans' Association will be formed by our colleagues from the other side. We already have an association as Zipra and we will come together in the national war vets' association. Our interest is that before we die, all of us must see ourselves as part of government by managing our properties, welfare and controlling national endowments (natural resources)," Magwizi said.
He said the new association should be non-partisan because not all war vets belonged to one political party.
Magwizi said the Nitram Investment board must be consulted to establish the properties which have been fully identified so that when they present them to the President, they are clearly named.
Zipra Veterans' Association chairperson Ben Ncube said they were hopeful that Mnangagwa would assist them since he was also a war veteran and they even participated in the formation of the new political dispensation that saw him land the Presidency.
"After this meeting, we will write up a position paper to present to him and we believe he will sympathise with us," Ncube said.
"Most of our comrades have no shelter, some have not been vetted and others had their homes destroyed, so we must reveal those situations. It is like we are still in the bush where we had no shelter."