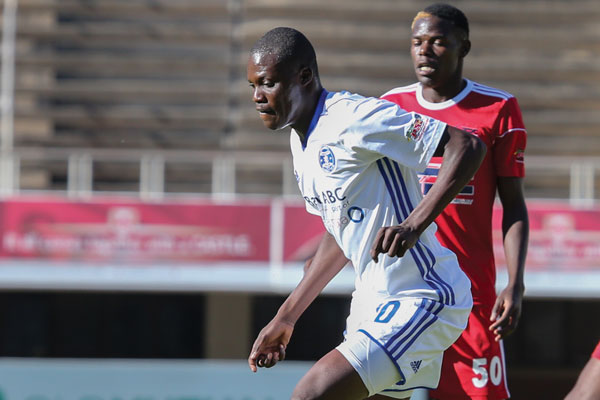 TROUBLED Dynamos midfielder Denver "Mundikumbuke" Mukamba was yesterday shut out of the Harare football giants' morning training session at Motor Action Sports Club with coach Lloyd Mutasa standing his ground that he does not require the attacker's services anymore.
BY JOHN MOKWETSI
This development is set to create a discord between the technical team and the executive as information reaching NewsDaySport indicates that the talented player has the backing of one powerful member of the executive.
Despite Dynamos secretary-general Webster Marechera telling NewsDaySport a fortnight ago that Mukamba, whose contract still has two years, had been given a reprieve to play for the Glamour Boys, Mutasa indicated otherwise.
Mutasa said: "I do not see how this can still be a story to pursue. We met with the executive and we were clear on the issue of the striker. I do not even know that he was here at the training ground. What I know is that we drew up our list of the players we want and Denver Mukamba is not on that list."
His assertion is contrary to what Marechera said.
"We sat down as the executive, the technical team and the board and discussed his (Mukamba's) situation. After some considerations and the legal repercussions that may arise, we decided to give him another chance," Marechera said.
The Mutasa-Mukamba friction started last year when the former Soccer Star of the Year missed training sessions and matches without notice.
Mukamba, who cast a lonely figure and clad in a T-shirt that seems to confirm his belief with an inscription "Most Valuable player", said he had reported for work as a contract holder, but was stopped by manager Richard Chihoro from proceeding from the entrance of the training ground.
"I do not get it. People misunderstand me. I am a professional, but I am also human. Elders of the team came to my home to convince me to come and play for the team, but here I am just standing like an outcast. It is all confusing to me. I will wait and hear what the coach has to say," Mukamba said.
By the time the training session ended, the "bad-boy" of Dynamos football had left.
It was also not clear if Masimba Mambare will be at Dynamos as he was not at the training ground. Mutasa was vague on why it was so.
"Mambare's contract ended so we will have to see what happens from now. It will depend on what takes place with the bosses," he said. Meanwhile, Mutasa could neither confirm nor deny what sources within the Dynamos corridors have been saying for the past week that he is keen to persuade defensive midfielder Devon Chafa to rejoin DeMbare.
A source within the club said: "Chafa is a good player. We know that he is our son and we will work for him to come on board if this is what the technical team wants. We know for sure that this issue has been surfacing at several informal meetings with the technical department."