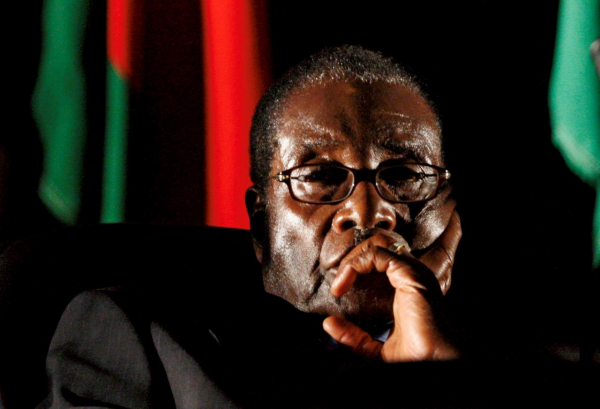 FORMER President Robert Mugabe's security aides based at Gushungo Holdings (Pvt) Ltd and the Zimbabwe Republic Police (ZRP) Support Unit have been ordered to vacate Smithfield Farm in Mazowe, which the former First Family had allegedly grabbed for the expansion of its business interests.
BY CHARLES LAITON
High Court judge Justice Happias Zhou gave the order last Thursday following an application by small-scale gold miners, who had been elbowed out of the property by the Mugabes.
The miners — Bright Mawonga, Mohammed Rezwani Khan and Shepherd Nyazvigo, who was represented by Phillip Makanya through power of attorney — approached the court early this year after the officer-in-charge of Mazowe ZRP and the Gushungo Holdings (Pvt) Ltd security officer claimed their mining claims were situated in a protected zone.
But in his determination, Justice Zhou said pending determination of the matter, the ZRP officer-in-charge and the Gushungo Holdings security officer, through their subordinates, should allow the applicants unhindered access to their mining claims, namely Xmas 122, 123, 102 and 103 and Mondo 4, Mondo 3 and Xmas 159.
In his founding affidavit, Makanya said in 2013, Nyazvigo and his co-applicants were chased and dispossessed of their mining claims by Mugabe's security officer and the Police Protection Unit.
"The applicants approached the then mining commissioner, IN Chihota, over the dispossession of their mining claims and he responded that Smithfield Farm is not under a protection zone and ordered that the second respondent and other members of the security forces, which had been deployed thereon, should not interfere with applicant's mining operations," Makanya said.
"Though the members of the security forces did not vacate the applicant's mining claims when the mining commissioner ruled that Smithfield Farm does not fall under a protected zone, they then moved out of the farm in November 2017 and the applicants went back to their mining claims and resumed operations."
Makanya said, recently, the ZRP and Mugabe's security officer deployed their officers on Smithfield Farm and barred the three men from further carrying out mining operations on their claims.
He said the police and the Gushungo Holdings security officer had put up a boom gate at the farm entrance, where they were screening people entering the farm and were not letting in anyone intending to go to the mining claims.
"The applicants left the mining equipment unguarded, as they were randomly chased from their mining sites and some left ore which they had mined," Makanya said.
"The equipment and ore are being taken/stolen by illegal miners who are sneaking into the farm using undesignated entrances, thereby the applicants are being prejudiced of their mining ore and their equipment worth thousands of dollars is being vandalised and/or stolen."