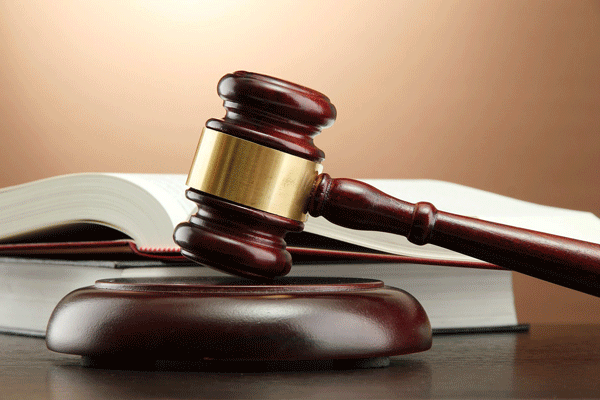 BUSINESS at the Bulawayo Magistrates' Court briefly came to a halt yesterday after Mthwakazi Republic Party (MRP) activists stormed the courtroom singing and chanting slogans denouncing the magistrate's decision to dismiss their party leader, Mqondisi Moyo's application for discharge.
BY SILAS NKALA
The activists chanted "Asifuni bumbulu" after Bulawayo magistrate Franklin Mkhwananzi declined to entertain Moyo's application for discharge in a case he is accused of organising an illegal political gathering in Lupane on December 14, 2016.
Through his lawyer, Maqhawe Mpofu, Moyo disputed allegations that he was the convener of the alleged meeting.
He claimed he just attended the meeting as a guest following an invitation by community members.
"After being furnished with some important details, one is left wondering and at loss as to how the State proceeded to take the matter to court when it has been made clear that Moyo was not the convener of the said gathering," Mpofu said.
"Whether is it through lack of understanding or it is by design that now invited guests to a public gathering have to be charged in terms of section 25 of Posa [Public Order and Security Act], it is against this background that we make an application to quash the charge . . . The charge should be quashed for lack of compliance with the law as a wrong person is being brought to court. In essence, the State is barking up the wrong tree."
In his ruling, Mkhwananzi said: "The court cannot make findings as to whether the accused was a convener or not basing on the statements of witnesses, who have not testified in court.
"This court cannot make a finding without a hearing. Therefore, accused's application has no merit and he has to stand trial."
Immediately after the ruling, Mthwakazi activists, who had packed the court gallery, stood in protest and started singing "Asiphelelilapha" which means, "this is not the end".
They also chanted the slogan "Asifuni bumbulu" as they walked out of the courtroom, disrupting proceedings.
Moyo's lawyer indicated that he would soon file an application for review at the High Court.
The State alleges that on December 14, 2016, Moyo organised a public meeting at Mlamuli Grounds in the Jotsholo area in Lupane, where Hloniphani Ncube, who is at large, introduced himself as MRP secretary.
Ncube allegedly added that he had come with Moyo to celebrate the acquittal of four Mlamuli villagers who had been arrested on allegations of intimidating a local headmistress.
In his address, Moyo allegedly told the villagers that MRP was a political party formed to liberate 13 tribes from the Shona-speaking people and the rule of then President Robert Mugabe.
He also called for secession of Matabeleland from the rest of Zimbabwe.
These political statements led the police to conclude that the gathering was a political rally, leading to Moyo's arrest.