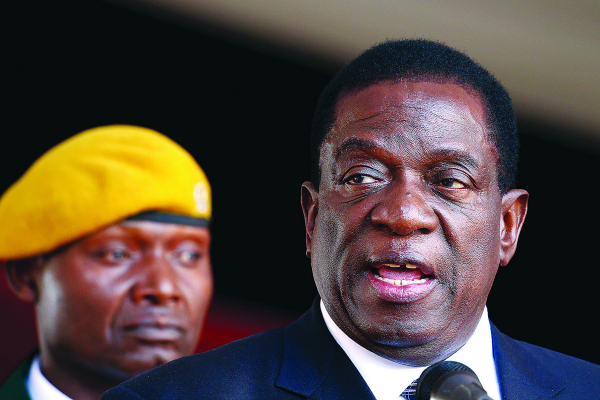 NATIONAL People's Party leader, Joice Mujuru is rekindling her old internal Zanu PF rivalry with President Emmerson Mnangagwa after calling him an "illegitimate coup leader", whose power rests in the military.
BY BLESSED MHLANGA/NQOBANI NDLOVU
In a statement, Mujuru, who was ousted from Zanu PF following a showdown with Mnangagwa, said the current government lacks legitimacy.
Also leader of the People's Rainbow Coalition (PRC), while applauding the position taken by the European Union (EU) on Zimbabwe, Mujuru attacked her former foe, whose inauguration she ironically attended in November last year .
"The adoption of such fundamental conclusions goes a long way in vindicating PRC's consistent and firmly stated position that the new administration is a product of a military coup, it is an administration that lacks both legitimacy and legality to govern the people of Zimbabwe. Resultantly, there can be no doubt that the country is in need of genuine political transition back to the imperatives of constitutionalism and the rule of law," Mujuru said, through her spokesperson, Gift Nyandoro. Mujuru said the country remained under military rule and called on Mnangagwa provide a transitional mechanism for a return to constitutional order.
Mnangagwa has promised to have free and fair elections within five months, which will be open to observers including those from EU.
He has also called on Zimbabweans to desist from intimidation and violence ahead of the polls.
Mujuru also demanded that Mnangagwa provide access to the Zimbabwe Broadcasting Corporation for all parties and remove the military from electoral processes.
Meanwhile, PRC will be rolling out provincial rallies beginning tomorrow in Mashonaland Central to woo votes ahead of the elections to be held in five months.
"Mujuru and her team shall be embarking on a 'meet the people programme' that will see her visit all the provinces in the country within the next two weeks. All team leaders are required to prepare for this programme in their respective provinces," Nyandoro said.
In an interview yesterday, Nyandoro said this was testimony that PRC was "already in election mode".
"That is a programme of action. The process of compiling the diary and rationalising the dates and time is underway, and that should be done by this Friday (tomorrow). Probably this coming Friday, she will start in Mashonaland Central, where she will have four provincial leadership meetings.
"On Saturday, she will be in Mashonaland East. Harare comes next. It's a rollercoaster exercise that we have since started. As the PRC, we are now in election mode," Nyandoro said.
PRC brings together the People's Democratic Party faction led by Lucia Matibenga, Zimbabweans United for Democracy led by Farai Mbira and the Democratic Assembly for Reform and Empowerment, whose leader is Gilbert Dzikiti.