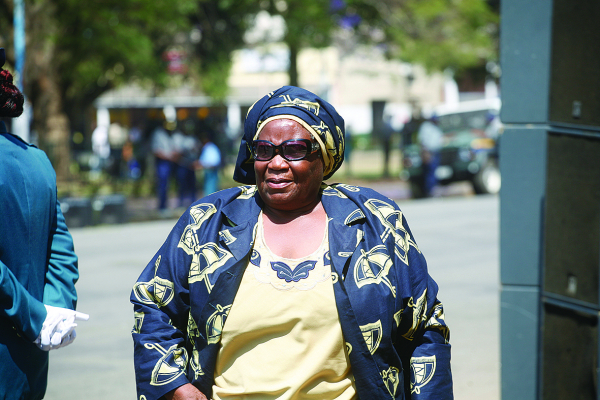 BULAWAYO Metropolitan Affairs minister Angeline Masuku was yesterday booed off the stage by mourners during a memorial service for Brethren-in-Christ's late cleric, Reverend Reuben Mabhena after she called on citizens to "forget" about Gukurahundi and move on.
BY SILAS NKALA/ NQOBANI NDLOVU
The top Zanu PF official was forced to abandon her speech after congregants and mourners ordered her to leave the podium when she tried to silence the people of Matabeleland from voicing their plight on the Gukurahundi genocide.
"Most among you do not know that I was one of those who were in Chikurubi (Maximum Security) Prison, with the late Zapu commander (Lookout) Masuku's wife visiting me. As such, we as a people must move away from the past and hatred which will not help us. As resident minister of Bulawayo, I sadly note that people who talk about Gukurahundi are anti-development of the region, who are being funded to sabotage the government of President (Emmerson) Mnangagwa. They are an impediment to Matabeleland's development," Masuku said, angering mourners who booed her in the process.
"People of Matabeleland are full of hatred, we need to embrace each other. People are now making money and political mileage through Gukurahundi," Masuku said before she was ordered off the podium by angry mourners.
The crowd, comprising mostly of church members, did the unthinkable by booing, heckling and drowning her speech, eventually forcing her to stand down.
Several top politicians from Matabeleland region said Masuku deserved the heckling she received because of her "insensitivity" on the issue.
Mthwakazi Republic Party leader Moqndisi Moyo said it was surprising that Masuku chose such a momentous occasion to attempt to serve the interests of her crooked party, over the plight of the people of Matabeleland.
"It would be generally expected of her to align and seek legitimacy with the people of Mthwakazi since she was not elected by the people," he said.
Other high-profile politicians at the memorial service were Zapu leader Dumiso Dabengwa and Women and Youth Affairs minister Sithembiso Nyoni. Gukurahundi has remained an emotive issue in Matabeleland and Midlands province, where over 20 000 innocent civilians were reportedly killed by a crack army unit, the North Korean-trained Fifth Brigade, at the instigation of then Prime Minister Robert Mugabe, as the Zanu PF government was pursuing perceived PF Zapu dissidents.
During his tenure, Mugabe refused to apologise for the atrocities which he at one time described as "a moment of madness". His successor Mnangagwa last week admitted to the mass killings, but also declined to publicly apologise.
Mnangagwa went on to describe the fatalities as "overstated", although he gave assurances that his government would introduce national healing programmes for the affected families.
Meanwhile, Post-Independence Survivors' Trust director, Felix Magalela Sibanda, has warned politicians in the country to guard against using Gukurahundi as a campaign gimmick ahead of this year's elections.
"As a victim of Gukurahundi personally, I am failing to grasp and internalise the impact and rationale from certain quarters. Among the most vocal towards this 2018 election are former Cabinet ministers who never supported genuine victims, survivors, tortured, humiliated and activists who now want Zanu PF administration to correct the so-called moment of madness," Sibanda said.
"As I have already alluded to, I am a Gukurahundi victim, it pains me to the marrow to see and hear people use those victims as winning strategy. It is immoral and unAfrican to politic using the dead and is taboo to say the least." He said the government must not only wait for any given major elections to talk about the Gukurahundi issue and forget it soon after elections.