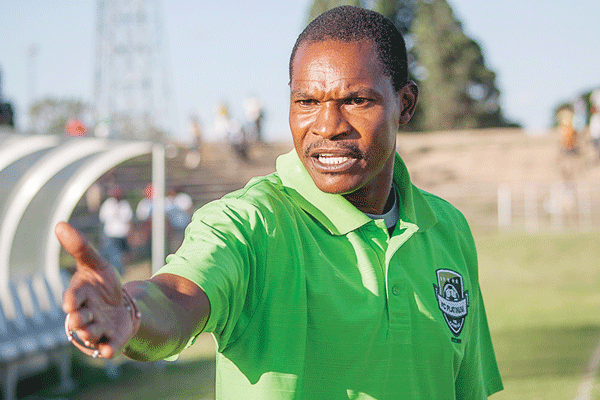 ZIMBABWEan football champions FC Platinum have put in place austerity measures to cut down expenditure and will not pay anything above $10 000 for a single player's signing-on fees in a bid to shed of the irritating Moneybags tag.
BY TAWANDA TAFIRENYIKA
Because of the stability of their financial resource base, FC Platinum have still been able to sign the players they wanted, but coach Norman Mapeza does not want the club's success to be associated with the team's riches.
The Zvishavane-based side have been accused in the past of trying to buy success by paying mouth-watering signing-on fees and salaries to attract the best players, yet success eluded them during the peak of their spending.
While he has been signing on some of the best players, Mapeza has called for sensible expenditure and the building of a team as opposed to buying one.
Expenditure has been falling over the last couple of years and this has seen the drastic reduction in the signing-on fees that the platinum miners pay their players.
When FC Platinum were promoted to the top-flight in 2011, they went on a frienzied spending spree that saw them splash $60 000 on Joel Ngodzo alone.
They also splashed on striker Norman Maroto, Charles Sibanda Zephaniah Ngodzo and Norman Togara, among others.
Such wanton and unlimited expenditure attracted the name Moneybags, which Mapeza has been working hard to shed off.
"They (FC Platinum) have rationalised and have put a ceiling of $10 000 for signing-on fees. There is no player who will get more than $10 000 in signing-on fees," an informed source said.
"The coach wants players to work hard for their rewards and he doesn't want the team to be associated with money, but hard work and good football."
Mapeza has looked beyond the country's borders as he seeks to create a squad that can make a mark in the African Champions League this year.
He has signed strikers Albert Eonde of Cameroon and Zambian Shadreck Mayembe, while on the local scene he has taken on board midfielder Rahman Kutsanzira, defender Lawrence Mhlanga, former Black Mambas right-back Jameson Mukombwe and former Bulawayo City midfielder Kelvin Madzongwe among others and included them in the provisional Caf Champions League squad.
Utility player Liberty Chakoroma, one of the biggest names among his new signings, might not play a part for the champions after he courted controversy with Ngezi and army side Buffaloes both claiming ownership of the player.
Although Chakoroma is not willing to discuss much about the controversy, informed sources said he had signed a two-year contract with FC Platinum before Ngezi Platinum persuaded him to stay after they moved to improve his contract.
Mapeza can still make adjustments to his squad after the initial January 15 deadline.
FC Platinum will begin their campaign away in the preliminary round against Angolan side Desportivo de Agosto during the weekend of February 9-11. Should they overcome the Angolan side, they will face the winners between Bidvest Wits of South Africa and Pamplemousse of Mauritius in the second round.
FC Platinum Provisional Squad:
Goalkeepers: Francis Tizayi, Petros Mhari, Wallace Magalane, Collin Phiri
Defenders: Raphael Muduviwa, Jameson Mukombwe, Elvis Moyo, Kelvin Moyo, William Sitima, Gift Bello, Lawrence Mhlanga
Midfielders: Winston Mhango, Nqobizitha Masuku, Liberty Chakoroma, Never Tigere, Kelvin Madzongwe, Marshall Mudehwe, Hillary
Bakacheza, Rahman Kutsanzira, Rodwell Chinyengetere, Bret Amidu, Ali Sadiki
Strikers: Mkhokheli Dube, Gift Mbweti, Albert Eonde, Shadreck Mayembe, Nigel Papias, Charles Sibanda