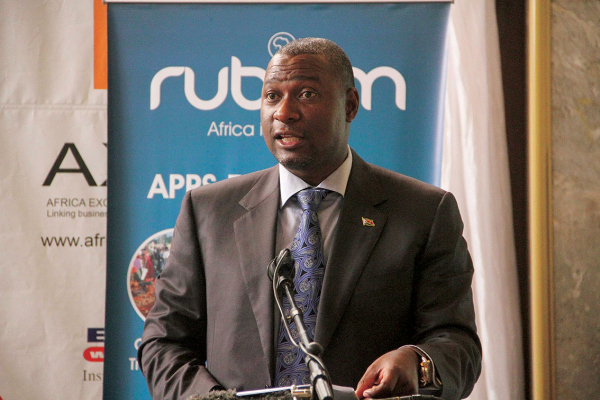 THE Zimbabwe Anti-Corruption Commission (Zacc) is reportedly targeting Information, Communication and Technology minister Supa Mandiwanzira, whom it wants probed for alleged abuse of office and underhand dealings with State-owned telecommunications company, NetOne.
BY XOLISANI NCUBE
Two weeks ago, Prosecutor-General (PG) Ray Goba wrote to Zacc board chairperson, Job Wabhira, seeking an update on the matter, which was reported to the commission by former NetOne chief executive officer, Reward Kangai, a year ago.
Zacc spokesperson, Phyllis Chikundura, curtly said: "We have seen the letter from the PG and we will respond to it by tomorrow (today) or any other day."
Asked specifically if the commission was probing Mandiwanzira, she requested for written questions.
"Put that in writing and we will give you a response, likely, tomorrow because the commissioners have already gone home. More so today is a Wednesday, it's a sports day, so we work half day," she said.
Goba, in is his letter to Zacc on December 20, 2017, said Kangai had lodged a complaint against Mandiwanzira to the anti-graft body through its commissioner responsible for investigations, Goodson Nguni.
"It is apparent that the complaint was lodged with your commissioner Nguni early this year (last year).
"In the event, I am unable to direct that you investigate the complaint lodged, as it would appear that Zacc is already seized with the matter," Goba said.
Mandiwanzira's lawyer, Brian Hungwe said Kangai was raising the allegations against the ICT minister in an attempt to scuttle efforts to have him arrested for abuse of office, which were raised by an audit report on NetOne.
"The allegations raised in the letter are a subject matter of pending civil litigation in which my client is seeking delictual remedies for defamation in the High Court. The veracity of his false allegations will be tested in the court in due process," Hungwe said.
"What has obviously prompted Mr Kangai to write and distribute the material for the past two years is an attempt to pre-empt a potential arrest over corruption allegations levelled against him following a forensic investigation conducted by a reputable audit group at the behest of the Auditor-General, whose report was published September 2016."
He said Kangai apparently has been on a vicious campaign on social media, and distributing material to government officials in a futile attempt to thwart investigations against himself and a potential arrest.
"He is clutching at straws and drowning, and the minister won't be there to assist him," Hungwe stated.
NetOne acting chief executive officer, Brian Mutandiro confirmed Zacc, armed with warrant of search and seizure (WSS-Zacc number 10/2016), pounced on the telecoms giant in 2016 to arrest him and the chief finance officer.
"They were investigating allegations raised by Kangai alleging corrupt activities by our management and the minister. After several hours and taking all the documents they wanted, they realised that they had been misled," he said.
Hungwe questioned the timing of the allegations.
"It's quite exciting for someone to raise allegations of corruption against a minister at this time of the year.
But what matters most is what the motive is? It's the same allegations that Kangai is going behind the backdoor to foist upon the Prosecutor-General in the futile hope that the dragnet will carry others," he said.
Kangai was fired from NetOne last year on allegations of abuse of office and failure to lead the State-owned mobile entity to profitability, and he challenged the dismissal with no luck.
The former NetOne boss also wrote a voluminous report to then President Robert Mugabe alleging that Mandiwanzira pushed him out of the State entity after he refused to engage Megawatt Energy, a Chinese company registered in South Africa, in a deal that he alleges would have seen NetOne losing at least $4 million.
An unrelenting Kangai has since written another report to President Emmerson Mnangagwa making the same allegations that Mandiwanzira was abusing his office for personal gain.
In return, Mandiwanzira filed a lawsuit against Kangai, accusing him of defamation, a case which is yet to be heard by the High Court.
According to documents seen by NewsDay, Zacc has been probing NetOne since May 24, 2016, but the results have not been made public.
A search warrant issued by former Harare magistrate, Vakai Chikwekwe, on May 24, 2016 reveals that the anti-graft body was probing the mobile operator for various deals that included the Megawatt Energy, Bopela Group, appointments of senior management and other deals involving MetBank.
According to the warrant of search and seizure, Zacc took, among other documents, a tripartite agreement between NetOne, Zanu PF youth league and Bopela Group. It also took a tripartite agreement between NetOne, Huawei and Bopela Group.
Zacc also took the NetOne-Huawei contract, a deed of settlement between NetOne and MetBank and an advertisement for the post of NetOne chief operating officer, among other documents.
This, according to Zacc sources, was to enable the anti-graft body to investigate allegations of underhand dealings involving some NetOne officials and ministry staffers.
The warrant also demanded that NetOne provides minutes of board meetings on the Megawatt Energy deal, after it emerged that the Chinese firm had links to a company called Blue Nightingale Trading, where it is alleged Mandiwanzira was a shareholder.