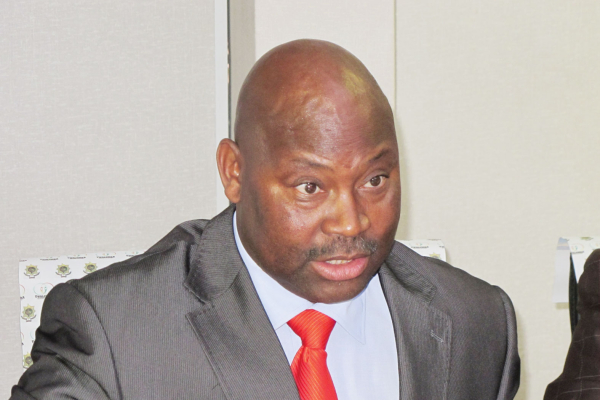 Highlanders head coach Madinda Ndlovu will invest his trust in youths to bring back glory days for Bosso, but the coach is braced for a fans' backlash in the initial stages of his project.
BY FORTUNE MBELE
Ndlovu is assembling a squad composed mainly of players from the BUlawayo football giants' youth system and has already ejected some of the team's older players that include Simon Munawa and Eric Mudzingwa.
"We have a mission and goals that we want to achieve as a club vis-à-vis what has transpired in the past. So in that case when we decide or agree that we are going to take a certain route, it's that route that we are going to take," Ndlovu said.
"It's not going to be easy; it's not going to be smooth sailing. There are going to be rough times when we are going to be enemies of our own supporters, but at the end of the day experience is not bought, it's earned. So with more games that these boys are going to play, they are going to get game time. They are going to pick up and play. I am confident," Ndlovu added.
Despite Ndlovu not winning the championship with the Bulawayo giants, he is credited for assembling squads that won the titles under Rahman Gumbo in 1999 and 2000 and the last squad to lift the championship in 2006 under Methembe Ndlovu.
He is currently in camp with a provisional youthful squad of 29 players and yesterday said it would not be easy making it to the final squad for the Castle Lager Premier Soccer League season as the players are going through a rigorous screening process.
"We have 29 players that we are looking at, at the moment and there are no guarantees for anyone to be a Highlanders players this season. We are working tirelessly with my coaches to give the boys the fairest analysis that we can give to them. We will give the office feedback on what we have and seen for now. We are now in early pre-season working on the physical aspect of the players. On Monday we are going into the second phase, which is fitness. We will then go to the preparatory stage where are going to be administering formations and working on strategies and that is then when we can say we have squad that we have for the season, but now we are still giving every youngster a chance to showcase themselves."
The players came in from the developmental side Bosso 90 and have been mixed with more established campaigners such as Peter Muduhwa, Tendai Ndlovu, Benson Phiri, Honest Moyo, Bukhosi Ncube, Adrian Silla, Brian Banda, Godfrey Makaruse, Ray Lunga and Gabriel Nyoni, among others.
Ndlovu spoke about his coming on board at Highlanders after weeks of speculation saying he was honoured to be back at the club that made him.
"My marriage to Highlanders was after discussions and what came out of that is that we need to put Highlanders back on track. Anyone who came into office after that whether they change that it is their own problem," he said.