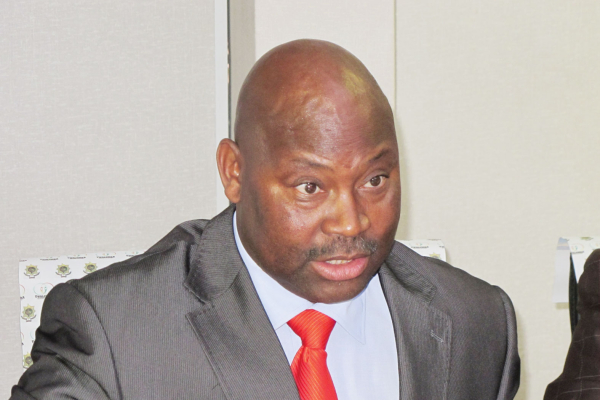 A 27-MEMBER youthful Highlanders squad has embarked on a two-week training camp outside Bulawayo as new head coach Madinda Ndlovu starts preparations for the 2018 Castle Lager Premier Soccer League season.
Fortune Mbele
Sources said the squad that travelled for the team-building camp is without veterans Erick Mudzingwa, Simon Munawa, Ralph Matema,Tendai Ngulube and Allen Gahadzikwa, whose contracts expired and are unlikely to be renewed with Ndlovu assembling a squad from Highlanders' developmental side.
King Nadolo is reported to be on his way to Witbank Spurs in the South African National First Division, while striker Nhlanhla Ndlovu, brought to Highlanders from Division One side Amagagasi, is also not part of the squad.
Highlanders chief executive officer Nhlanhla Dube yesterday confirmed the training camp, which he said would involve various programmes before the boys return to the city and the club releases their squad for the 2018 season with a possible three additions.
"What they are doing is team-building. We confirm that the team made up of 27 players, coaches, the medical team and support staff left Bulawayo yesterday (Sunday) for an out-of-town team-building camp. During this period, they will do physical training, psychological strengthening, counselling and general team building. They will be there for at least 14 days," Dube said.
The Highlanders spokesperson said Ndlovu has a drawn up a programme which will involve speakers that will address players on various topics during the team-building exercise.
"The technical manager (Ndlovu) has drawn up a list of topics and possible speakers who will be invited to give talks to the team during this period. It is an exciting time of re-energising the players and the whole team on the football side of the club," he said.
Established players in the squad who will be merged with new faces from the developmental side include goalkeepers Ariel Sibanda, Prosper Matutu and Nedrick Madeya; defenders Peter Muduhwa, Tendai Ndlovu, Honest Moyo, Bukhosi Ncube, Benson Phiri and Chalton Siamalonga; midfielders Brian Banda and Adrian Silla; and strikers Gabriel Nyoni, Godfrey Makaruse and Ray Lunga.
Ndlovu was confirmed as head coach last week and will be assisted by Mandla Mpofu as well as Melusi Sibanda.
The Bulawayo football giants are yet to settle on a goalkeepers' coach, but are said to be targeting Tembo Chuma.