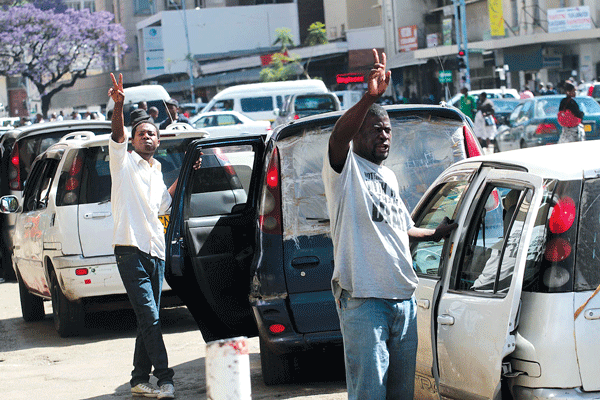 A WAR has erupted between commuter omnibus operators and pirate taxis plying the City-Ascot route in Gweru, with both parties using machetes to stop each from loading passengers.
BY STEPHEN CHADENGA
Commuter omnibus operators want the unregistered taxis off the streets as they claim that they are stealing their business. Commuters from Ascot had to walk to town yesterday as the standoff between the commuter omnibus and pirate taxi drivers continued.
"In fact, the war started yesterday (Thursday) evening when Honda Fit operators who had been blocked from loading passengers engaged the services of makorokoza (illegal gold panners) who came armed with shovels and mattocks," Amon Muchena, a commuter from Ascot suburb, said.
"Today (yesterday) the kombis crew retaliated and came armed with machetes and iron bars blocking the pirate taxis."
When the Southern Eye crew visited the Ascot commuter omnibus terminus, the points where pirate taxis pick up passengers were deserted.
A commuter omnibus driver said what angered them was that the pirate taxis were unlicensed.
"They have no operators' licences so we can't compete with people who operate illegally when we are paying, hence we are prepared for a bloodbath," one driver who preferred to be called Mhofu.
Police officers were, however, conspicuous by their absence as the battle raged, with some commuter omnibus operators claiming that top police officers own some of the pirate taxis.
Provincial police spokesperson Assistant Inspector Ethel Mukwende could not be reached for comment.
Last year, the kombi and pirate taxis crew plying the same route engaged in catapult fights which left some vehicles damaged.
Pirate taxi operators prefer the City-Ascot route which is shorter. They charge 50 cents, while commuter omnibuses' fare is 30 cents.