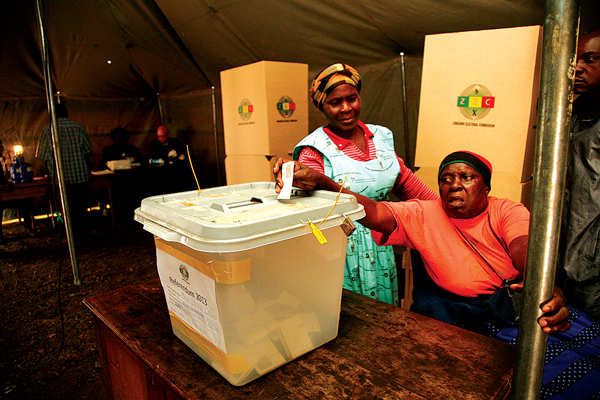 CHIEF Justice Luke Malaba says the judiciary is ready for the impending elections set for later this year and urged all the participating political parties to uphold the rule of law.
BY CHARLES LAITON/XOLISANI NCUBE
Justice Malaba made the remarks while opening the 2018 legal year, adding his troops were ready to tackle election-related conflicts "without fear or favour".
"As we start the legal year, I wish to assure the nation that the judiciary stands ready at all times to fulfil its mandate as provided for in the Constitution," he said.
"It is the duty of the judiciary to ensure that there is rule of law in the country.
"This is done through correctly interpreting and applying laws of the country without fear or favour."
Previous elections have often been marred by violence, with the judiciary sometimes being accused of taking sides.
"I am mindful of the fact that during the course of the year, Zimbabwe will hold harmonised elections," Chief Justice Malaba said.
"As the judiciary, we expect the rule of law to prevail, especially in the coming months when political parties start their campaigns.
"This is the only way that will ensure that the elections are free, fair and credible."
MDC-T spokesperson Obert Gutu welcomed Justice Malaba's remarks, but said more needed to be done.
"Chief Justice Luke Malaba is on point," he said.
"However, there is a whole cocktail of other measures that are immediately required to be implemented in order to guarantee the holding of free and fair elections."
Gutu said State media was still "virtually closed to opposition political players".
"This is in flagrant violation of the supreme law of the land," he said.
"In rural areas, villagers are being forced to surrender their BVR (biometric voter registration) slips serial numbers to local headmen and Zanu PF officials.
"This is blatantly fascist and intimidating.
"The observance of the rule of law entails that all fascist and Stalinist methods of governance be immediately renounced and abandoned. "It's not sufficient to just talk about the need for holding free and fair elections."
Chief Justice Malaba's sentiments were echoed by the chairperson of the Election Resource Centre, Trust Maanda.
"The Chief Justice is spot-on. Everything hinges on the rule of law," he said.
"In order for a country to be democratic, there must be the rule of law and in order for a country to hold free and fair elections, there must as be the rule of law. In fact, the rule of law is the backbone of everything in a democratic society."